Vivienne's Diary: February – March
TRANSLATIONS:   JAPANESE  ●  TRADITIONAL CHINESE  ●  SIMPLIFIED CHINESE
I have been busy with fashion-that's why this Diary is rather late – and it is just too much for me to tell of all the preparation of 2 collections and 2 shows, one after the other. I liked them a lot and I'll tell you a bit about them later on.
While we were working away the main news topics in the wide world were 1.) flooding in England which everyone now accepts as a symptom of climate change and 2.) the crisis in the Ukraine.
According to present political policies there is only intermittent solution to conflict, no end to perpetual war.

The process of putting this, our maxim, into practice would replace competition and aggression with co-operation and peace. This is why the fight to stop climate change is the last battle. Our rulers don't want a better world, they want this one; even though they are killing it they want to exploit the earth and its people. Our governments who serve them have their head in a box.
What follow are smatterings of information – information which is important to me. But when you link them to your own experience this gives knowledge. Information is one thing, knowledge is something else –meaningful to you; you have to "know" for yourself. It gives you mental solidity.
With regard to the Ukraine I wish first to talk about my romantic view of Russia.
I love Russian composers; certainly the tremendous Muzzorsky who's chief opera is Boris Gudunov by Pushkin."The Great Bells of Kiev" is the climax of his suite "Pictures at an Exhibition". When you hear his music's representation of the sound of these bells it fills the world you're in; I think of a city of painted churches with onion-shaped cupolas set in sometimes snow, sometimes plains full of flowers. It opens up a romantic view of Russia, the story told in the films of Eisenstein and the ballets of Diaghiliev (1872-1929), probably the greatest and most influential artist of the 20th century. The "Ballet Russes" which he created caused a sensation when he brought them to Paris at the turn of the 19th century. His taste was so great that he recruited and discovered talented artists from every metier. Some of whom had been the friends of his youth – and fused their work together creating ballet that combines and culminates  in all the arts.
Learning since that Kiev is the capital of Ukraine, I was interested to find that this is where Russia began, that –
I hope you connected to this interesting summary of Ukraine's history. If you want to know who the "Russian Decembrists" were, here is the entry in my Everyman Encyclopedia. There are heroically good people in the world and they usually pay the price for helping others.
Regarding the movements for liberation which sprang up in the 1820's, they were part of the Romantic movement. Europe was fired up by the example of the French Revolution. People wanted independent, unified republics; they wanted to identify with a nation. And they desired equality and justice.
This desire caused Byron to go to join the Greeks in their uprising and it spurred the patriots of Italy and Germany to fight for the unification of those countries.
The new nations wanted an empire like the British and this was one reason for World War One.
Culturally, the Romantic Movement was in reaction to the extreme rationalism of the 18th century and it began in that century. (Rousseau, Goethe).
The Romantics made a mistake. This is why Arnold's analysis is so important: you need feelings, yes, but you also need intellectual passion (sweetness and light); you need both if you are able to obtain what Arnold called "right reason".
The Romantics substituted feelings for intellect. They went in pursuit of novelty and adventure and sought the beautiful moment, whether it be the erotic moment or the moment of cosmic revelation; the measure of each individual soul lay in its response. They appreciated nature: it was the background in which they saw their own unexplained moods and questionings reflected. Purpose? Longing: the infinite! Death. The sublime and the grotesque; sickness, (T.B was endemic) pining away, beautiful women without mercy, Gothic castles. Typical stories are "Frankenstein" and "Wuthering Heights" and the novels of Hugo and Dumas.
Today our whole society is run on the Romantic ethic, putting feeling first. It is at the root of all propaganda. To indulge in feeling is a form of self-righteousness, sets us up to believe ourselves more than we are; we don't check our feelings and feel justified in doing what we want, thinking this is expressing ourself as an individual; we have no moral responsibility to our true self to do our best and yet we feel "nobody's better than me". We want the adrenalin rush, the cheap thrill, "something different".
Putin's a macho thug, a criminal, and don't let's forget that he planted explosives in the basement of flats and killed Russian civilians so he could blame the Chechnyans (see Litvinenko he poisoned with Polonium-210 because he exposed this) . He spreads terror whilst trying to develop his own personality cult. The Americans spread global terror but they manage to cover this up to most of the people in their own country. This letter remembers…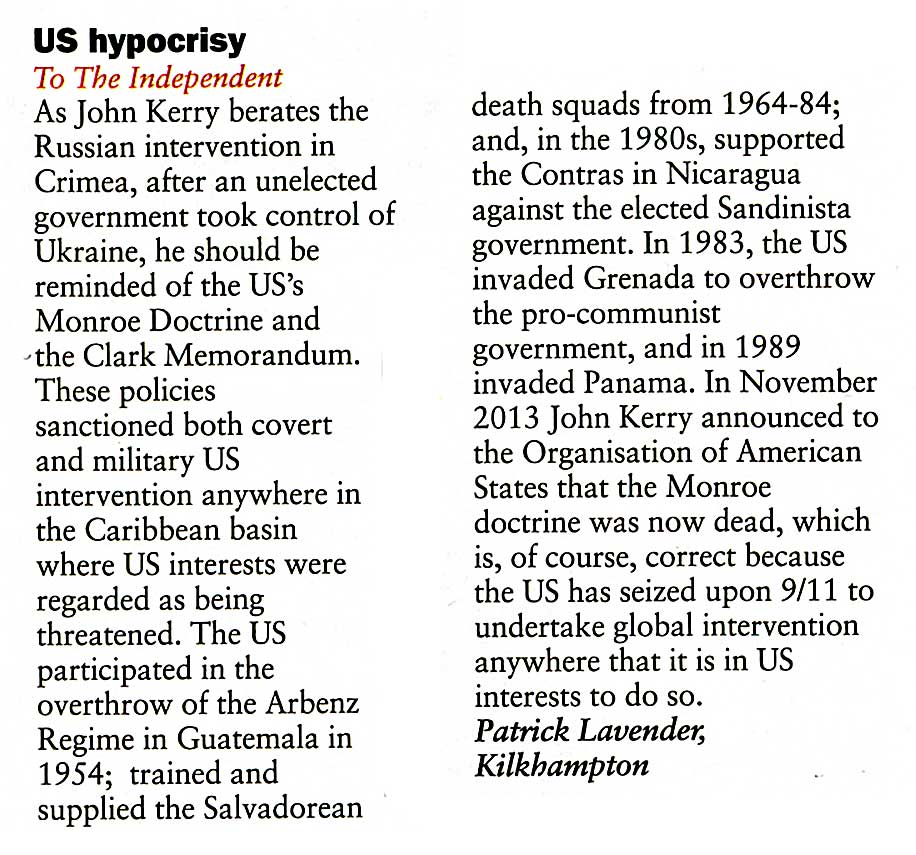 I shall continue the Diary by picking out the highlights of the last 2 months.
Mon, 3 Feb: We were invited to a concert and dinner at Buckingham Palace in celebration of the Monteverdi Choir's 50th anniversary, Prince Charles is their patron. The choir and it's orchestra are the work of conductor and historian Sir John Eliot Gardiner. Special is his research, finding out how music sounded in its day and re-creating it using the same kind of instruments.
Prince Charles said how he, as a young boy, became aware of how great the paintings on the walls of the palace were (we were looking at them during the reception and dinner) and made a link to the fact that John Eliot had in his home the only portrait of Bach which had been left there for safe keeping by a young man who fled the Nazi's to England by bicycle; Prince Charles wondered if this might have helped create the passions whereby he formed the choir at the early age of 20. The choir has been continually supported by private donation, a tremendous achievement.
The 2 pieces were from Bach and Handel, both born in 1685. You are sustained and lifted by the rhythm of baroque music, you fly. In the case of Handel, John Eliot had chosen a favourite piece, there is nothing better in the work of Handel. He gave us the image to this composition: Handel as a young man in Rome for the first time – Then! – when Rome was the same size as it is now, when it was so rich; all baroque, with its cardinals and churches, when the palaces which today are museums or divided up into flats were lived in by the famous families. How Handel showed off in this piece of music! He wanted to out-dazzle the dazzle.
We met really nice people, obviously who love music, especially Isabella, with a gorgeous décolleté wearing one of our gowns in ice blue, so animated and friendly, John Eliot's wife.
I said to Andreas that I'm sorry we're so busy that we don't cultivate new friendships, I would like to see them again. Lo and behold the next day arrived a present of a small box of CD's – the collected recordings of the Monteverdi Choir and orchestra with lovely sleeves, the photos of (mostly) arresting faces by Steve McCurry – Isabella's idea, and an invitation to dinner. I am so pleased. Isabella's interested in Climate Revolution, perhaps she'd like to help us.

Wed, 5 Feb: I did an interview with Vanessa Thorpe for the Observer, regarding famous people wearing the "Save the Arctic" t-shirts I designed, photographed by Andy Gotts. Vanessa seemed serious and lovely and I thought I'd like to know her more and in person. I always trust journalists but you can sometimes be wrong. When the article came out I couldn't have wished it better – chatty about the celebrities but she found a way to include every important thing I said. Thank you, dear.

Sat, 8 Feb: To the Barbican to hear Handel's oratorio "Theadora", with soloists and choir.Handel's "victory" oratorias prompted by the Duke of Cumberland's brutal crushing of the Jacobite rebellion 1745 had matched the bellicose national mood but Theodora cut right against audience expectations. (Shows how success depends on being in accord with public conception)  "Theadora" emphasises the power of the Holy Spirit to change lives and sanctions religious tolerance and freedom of thought.
Sun 9th Feb:  Red Label represented some of our classic looks.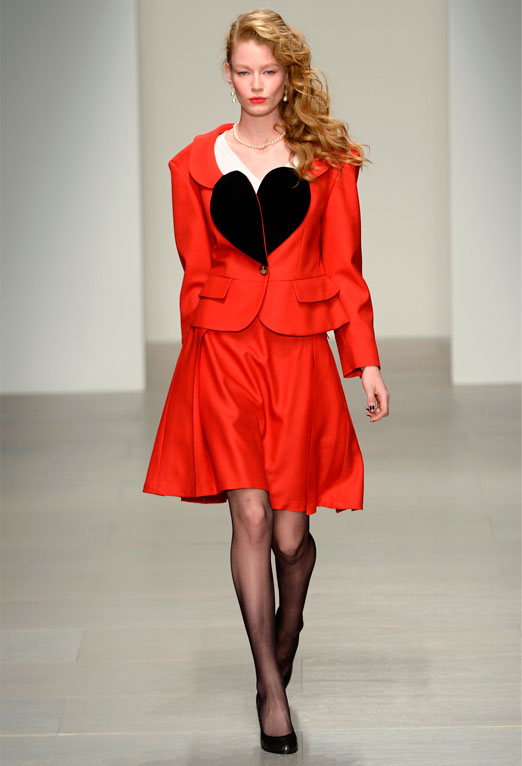 Wed, 12 Feb: Jude Law in Henry V.. Loved it. I know the play quite well –read it at school – Shakespeare: genius, every play different. I can quote the prologue, "Oh for a muse of fire…..", the craft is forever original no matter how many times you hear it. So many different scenes, I discovered my favourite was Henry wooing the French princess and she is talking in French all the time and he in English but you understand everything. Sexy! Jude Law has such a physical presence. ( The battle of Agincourt was truly a terrible battle fought in mud and rain with the English archers slaughtering the French knights as their horses skidded and all were shot down on top of each other in the mud. English deaths a few hundred, French 10,000.The 2 fingered gesture, "Fuck Off" is rumoured to be that of the English archers, the fingers which drew back the bowstring when they shot the arrow. These fingers were chopped off if they were captured) It was so well-done. Andreas described it being like a school play (maybe because the production so served the text). Some of the older actors could have been the school teachers. Everything just fell into place. Unfussy, down to earth, especially the scene changes which I remember as just carrying the props on and off and changes in lighting. The actors did the same, just moved around or on and off and you immediately accepted the changed scene. The costumes suggested the period in history but suited the characters; true to cliché – in the play and now – the French were dressed more decoratively – more silk and velvet, made to seem more effeminate and inconstant by comparison with the manly Henry in his leather jerkin and solid crown and his heraldic worn tabard at the time of battle. The Welsh windbag, Fluellen was a little turkey-cock; in a wide-brimmed felt hat, very smart in boots and breeches, which I think were called galligaskins. Everything considered but it looked so natural.
Sat, 1 Mar: Gold Label Show, Paris. Andreas and I arrived Wed. noon. He went straight to the showroom for the casting. I went to the hotel and stayed in bed till noon the next day, reading.
Then I went to the showroom where most of the collection had arrived. Now I could see all the clothes in their proper fabrics and put all the outfits together. I knew it would be strange: I am used to us mixing things, from tabards to togas to tailoring, including our signature cutting principles and historical cuts and with innovative use of fabric. There is always some hint of a story, theatre; a way of dressing up to express more of yourself. But with this collection I feel I've never seen anything like it. It's pure fantasy, the character of each outfit has not yet been identified. It's waiting for whoever wears it to invent it. I will choose something and I will feel the freedom to be anything! Even anonymous or at least incognito. I will feel very self-aware.
I told you Andreas was inspired by Worth and beside that we were also inspired by the quite different world of our friends from the Rainforest, the Ashaninka. They sent us some garments and beads and we designed workware/battledress in forest green. (The Ashaninka have fought many years for their forest. Many died in the last war.) I love their woven or painted garments – a simple bag – shape, beads and red face paint. I respect people who until now have need of so few clothes and possessions, and who identify with their elegant traditional attire. I have the impression it keeps you more at one with the world. Sam and Val did cool stuff as usual. Sam took away the hair by plastering it flat around the head but also did 5 girls hair in Belle Epoque styles. And Val used the Ashaninka face paint
Venue. Beautiful (now deconsecrated) church Oratoire de Louvre St. Honore, lighting cool(Tony), music cool( Dominic). We put presents of chocolate from the Ashaninka on the seats. The plan to save the Rainforest is on track.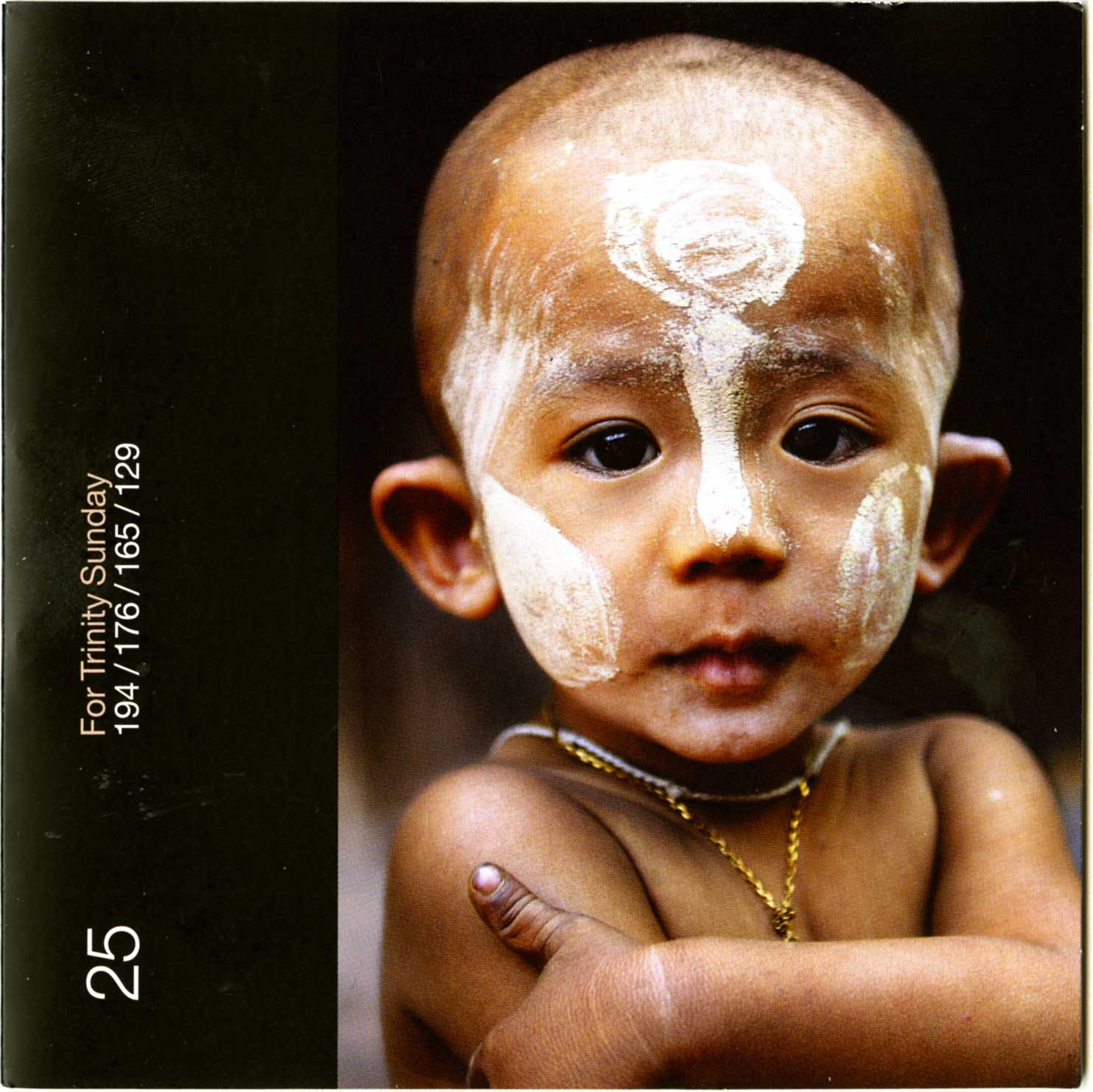 Sun, 2 Mar: (Came back Mon. evening).
Still in Paris. Such a treat being with our best friend, French Yasmine Eslami ( stylist and lingerie designer) who worked on the show. And at dinner I enjoyed talking to Jonathan the stylist who did the shoot for the Gentlewoman, who was there with the editor Penny Martin. Of course I talk about "Who are our Rulers" and the danger we face from Climate Change. My friend Frank came all the way from San Francisco. I managed to spend time with Frank in Paris. But I hugged my friend Nobuko who came from Japan and who I haven't seen for a few years and then missed her before she went back,she having hurried across London to visit the beautiful pots of Steve Harrison, Nobuko is fantastic. Very beautiful with no make up. She usually wears black and has long slightly wavy black hair down to her waist. She used to wear the most perfect make up when we first met her; she introduced us to Japanese partners more than 20 years ago and worked with us in Japan. Then she changed her career and wore kimonos. She lived with Take who fought sickness in the years before he died. She learnt to work with leather. She did this against taboo; a woman of her class would become an outcast. Leather –working is considered filthy and is done by men of low rank.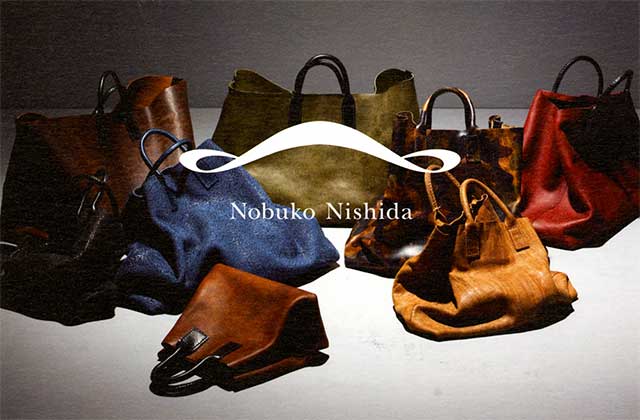 Wed, 5 Mar: Scandal in Lambeth. I join the local protest outside a house under threat near to my home. Kate Howey our MP. Was there, she's great. Lambeth Council are picking off the members of the housing co-op one by one. Must fight them.
I heard that at Elephant and Castle the council intend to demolish half the council housing and build posh appartments adding to the waiting lists of people who can't afford a home. And Camden Council (good council) will pass a law to stop rich people speculating, buying houses and leaving them empty.
Andreas likes a cup of tea of a morning in the café across the road. He noticed in the last year, the women who meet there. They have dropped off their children at school, smart, keep-fit and expensive bags. They have just bought houses for £2m. this south side of the river and sold their houses on the other side eg. Chelsea – houses which they've had for life, probably handed down to them, for £10, £12 m.
Sun, 9 Mar: WOW. (Women of the World) Shami Chakrabarti supports this event and will interview me for a crowd of people down at the Southbank. My wish was to communicate to people "Who are our Rulers?" and Shami was a wonderfully supportive interviewer, letting me make all my points. By identifying our rulers people understand why the world's in danger, how it happened.
The last question was from a child, " How can a child stop Climate Change?" I told her that I had always respected my 2 sons as people and that children were people with the same responsibilities as grown-ups. Your most important task is to understand the world; you understand the present by discovering the past, through reading and through art. Every work of art tells a story; it's  a vision of how somebody saw the world and if it is great art it is universal. The story is alive now. She should also find out what is happening in the world, politically and environmentally. This knowledge affects your behaviour. I forgot to tell her that young children have more time than grown- ups ( those who are employed), in which case she could form a little club with friends or with her grandma to find the past through fiction, reading and painting and music, as well as history and to join a cause. Don't create waste –  plastic, paper ( much better than relying on re-cycling), switch off lights and heating when you don't need it. This discipline will get you involved in bigger issues.
Tue, 11 March: My friend Martina came to see me she worked with and now she teaches in Hamburg. She's been through pain and agony but I've never known a more sparkling and positive person, warm and kind. Serious. I love serious people, the ones who want to make the world a better place. Martina brought me a book of the costumes of Schaumburg worn nowadays by a handful of women. She took 130 students there for costume research- for a month ( shows the budgets Germany spends on education) I noticed that the work of one student was specially good. Another girl sent me a necklace of conkers, she had made a beautiful job. It is as elegant as the amber necklace which inspired her. Martina is putting some ideas together on ethical fabrics.
Wed, 12 Mar: In the early evening I went with my friend Peter Olive to a discussion at BAC (Battersea Arts Centre) on "The future of text" in theatre. There was a panel of two women director managers and a woman who improvised drama on a night bus, chaired by an actor who performed his own material. The audience was a small group of supporters of this theatre. I am a trustee and I like it because it's local and it's also an important theatre.
I was interested to hear the discussion because a lot of theatre has a problem with text. You can't hear the actors. They have their backs to you and their voices are absorbed into the back corner of the stage; at the Young Vic I saw a play completely in the round where the actors had no focus on the audience and you could not hear unless they happened to face you. Actors sometimes don't project, especially young ones. They talk as if they're doing TV or film.
The panel talked (to each other) for what seemed like 45 minutes and they managed to say nothing. What they did over and again was to repeat, "We do things differently", without saying what it was that they did differently. I do remember that one of them said that in a play something happens (that was the important thing) and you can say that differently (she must have meant change the meaning or the words). Yes, you can, but then the whole play must change. I could have asked her about that but at the time I was puzzled – why would you want to change the words of Shakespeare half way through the play, then re-write the rest?

They talked sometimes about audiences and I could see where they were coming from; they didn't want to cater for a privileged class and they were anti-intellectual because they confuse that with being anti-people. One of the director managers was adamant that process was the important thing. By process did she mean how you worked together to prepare a play? All those decisions which build the finished form. Why didn't she explain what seemed an esoteric term?
Peter and I had wanted to leave but we didn't because it seemed so rude – we were such a small gathering. However, when question time came I told them that we had been bored from beginning to end because they had nothing to say on the subject proposed for the discussion. The chairman told me I had a right to my opinion to which I agreed because it was more than an opinion but a fact. The audience were angry with me and told the panel it had been interesting; they couldn't say why. Presumably they had sat there as complacently as the speakers, happy supporters of people who said they did things differently.
We must assume that these two women speakers, who each ran very prestigious theatres, put on good plays.
At the end, David, who runs the BAC, brought the evening smoothly to a close by telling us the thing you think of last is often the best idea. I've heard this before but it's an empty, useless statement; it rather encourages people to think you can pull an idea out of a bag – whereas an idea is built; it grows and develops. It is formed. Every now and again I cannot make an idea work and when I've really had enough I go back to the beginning and aim for what seems like the only solution – but this is part of the work.
Theatre is, I think, the greatest art form for communicating ideas – and it can be used to criticise the status quo. It is affecting; it gets to you much more than film because you have to supply the imagination. You can't be passive.
I was lucky when I first went to the theatre, aged 19, to see Robert Bolt's "A Man for All Seasons" with the actor Paul Scofield. It is the story of Henry VIII's cardinal, Sir Thomas More, who opposed Henry's wish to divorce his first queen, Catherine of Aragon, and was burnt.
The scene changes were minimal and magical: banners dropped from the ceiling and More's home was transformed into a court of law. Music. A character called the Common Man rushed in with a long bench with 11 poles stuck in it, put a hat on each and sat down, completing the jury.
That's what I mean about imagination being an active collaborator; we willingly take part in the pretence. We just love the play for showing us the trickery, giving us the gesture, and we supply the rest.
Theatre is larger than life. It does this by representing a thing by its essentials. It is artificial; artificial = made by art.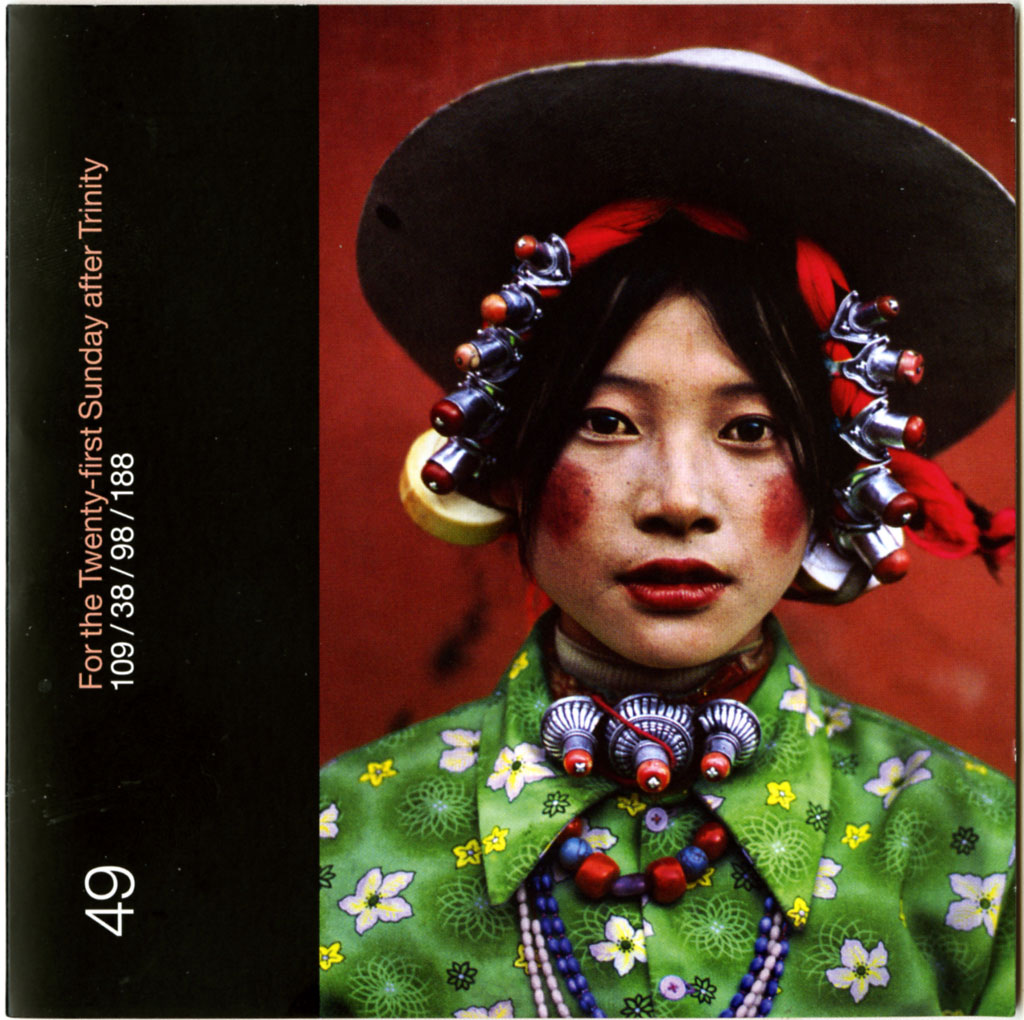 I think it would be great to re-introduce the artificial declamation of text into some of our plays. Laurence Olivier was larger than life but his style was too artificial on film, it looked contrived.
How powerful the text in Peter Hall's Greek dramas which use the convention of masks! The actors never turn their backs and when they walk on from the side they twist to face us. They talk to each other by facing the audience, talking to you in turn as if you were the one each was holding a conversation with.
Yes, I'm all for different ways of presenting theatre. I expect by "process" the woman on the panel meant what works dramatically. I have no problem with the proscenium arch. It is equal to the frame on a picture; it closes off a magical area which we can enter through the imagination. The actors and audience don't need to mix.
Directors sometimes break our concentration on the play by turning the attention on us; the actors involve us directly, making it our dilemma. Brecht did this.
When others try to pull the audience into the play with special stage effects it can turn into a circus. I saw a production of "Faust" where the actors could pull themselves up from the stage and walk about like monkeys in a net which hung above our heads across the whole ceiling. This was just one of the spectacular effects which became more irritating as the play kept going because the plot was weak.
BAC enjoys taking advantage of all the different sized spaces in its building and sometimes "stages" theatre events as an itinerary through its rooms. Entering into a dark room furnished from another age, I suddenly realized that a man was in the armchair in front of the fire and that the giant cat on the hearth was real. The play climaxed in a great sexual dance of death in the main room, full of light which was extinguished when the terrifying figure of death loomed. The event was from a story by Poe, "The Masque of the Red Death". It had the ambiance of a secret terror and made a big impression but I missed the story that builds a plot.
Aristotle says the end or purpose of a play is the plot, the thing that happens, "for it is in the action that happiness or unhappiness lies…according to their actions men are either fortunate or the reverse." And, of course, men's actions depend on their character and how that character might behave in certain circumstances or in response to the behaviour of others. He must stay in character. Text is part of the drama, it moves the play along.
Theatre should be for everyone. But it's not cheap. In an ideal world the arts would be government subsidized – 10 times more than they are now. In ancient Greece private patrons spent a fortune; what we have left of the plays continues to enrich our lives. I can understand artists finding ways to take drama to the people – it's life changing – but poor people will have to save or find it impossible to come to go to the theatre. Theatres like BAC try to deal with this in their use of limited funds. 
Thurs, 13 Mar: For some time since I took on Climate Revolution I've had the idea that I don't have time for friendships outside my agenda. But this is stressful and stupid. I enjoyed Martina so much. After all it's what everybody takes the greatest pleasure in – chatting to their friends. And when 2 young men I know left a message to meet I did so, in one of my showrooms above our shop in Conduit St. after my visit to the dentist. They live in Paris. It would be convenient for them to get from the West End to the Eurostar that evening.
My friends were the sons of fashion designer Jean-Charles de Castelbajac, a friend from way back who helped me when I was poor. Their mother, Kate is American and they were at school there so they are completely bi-lingual. This is the best education because each language embodies different ideas and ways of thinking. There are four years between Guilleme and his younger brother Louis Marie and they are friends. I saw Louis Marie in Los Angeles about 5 years ago when we opened our shop and he was there together with Dita Von Teese. Guilleme I haven't seen since he was little.
We had coffee in the showroom, just clothes, nobody else there. We just caught up with everything we and our families are doing and also some of the things we care about. Guilleme has a son Balthazar 5 and takes him to the museum. He got him interested in the nude statues so now they both enjoy the museum (the MET in N.Y.) Louis Marie gave me a bottle of precious Armagnac for which he designed a felt protective coat, telling me he liked working with such quality and such people from the region. There again they're serious people and so bright and shining. I do like them.
I recommended that they just had time to visit the Wallace Collection before they took the train.
Mon, 17 Mar: I started a Suduko at 7.30a.m. and I copied it out because it was a good one, I'd done it twice before and now I couldn't do it. I checked to make sure I hadn't missed out a number. I just wouldn't put it down till 3p.m., then I looked again, found out I had missed a number and finished it straight away.
Tues, 18 Mar: Lunch and press launch of shower video I did with Dan Matthews and his script for Peta. It's about being a vegetarian and saving water. It takes 4 million gallons to make one ton of beef. Nicely shot, good idea. I had told Dan to make use of "The Best Speech Ever" and he gave copies to the press.
Pamela does such a lot for animal rights. Whenever she travels Dan sets it up for her to talk to important people and they have changed laws and practices. Imagine doing that every time you travel. It takes a lot.
Wed, 19 March: 'The fight against fracking is the most important battle the British people will ever fight! It is the 1st battle in the war against climate change' 
Our Big Day! The Fracked Future Carnival. Climate Revolution and Friends of the Earth, Frack Off London, Ecocide, Fuel Poverty Action, Reclaim the Power, the rest were community groups (Frack free Somerset, Britain & Ireland Frack Free, Resident Action on Fylde Fracking, East Kent Against Fracking).
Scheduled for today so we can protest the conference of Conspirators, those business and government officials who are meeting to force fracking through against the public interest and before the public have been warned of the danger. Officials who have their head in a box and are prepared to destroy the world for profit.
We know they have re-located their conference for fear of us and we know where it is.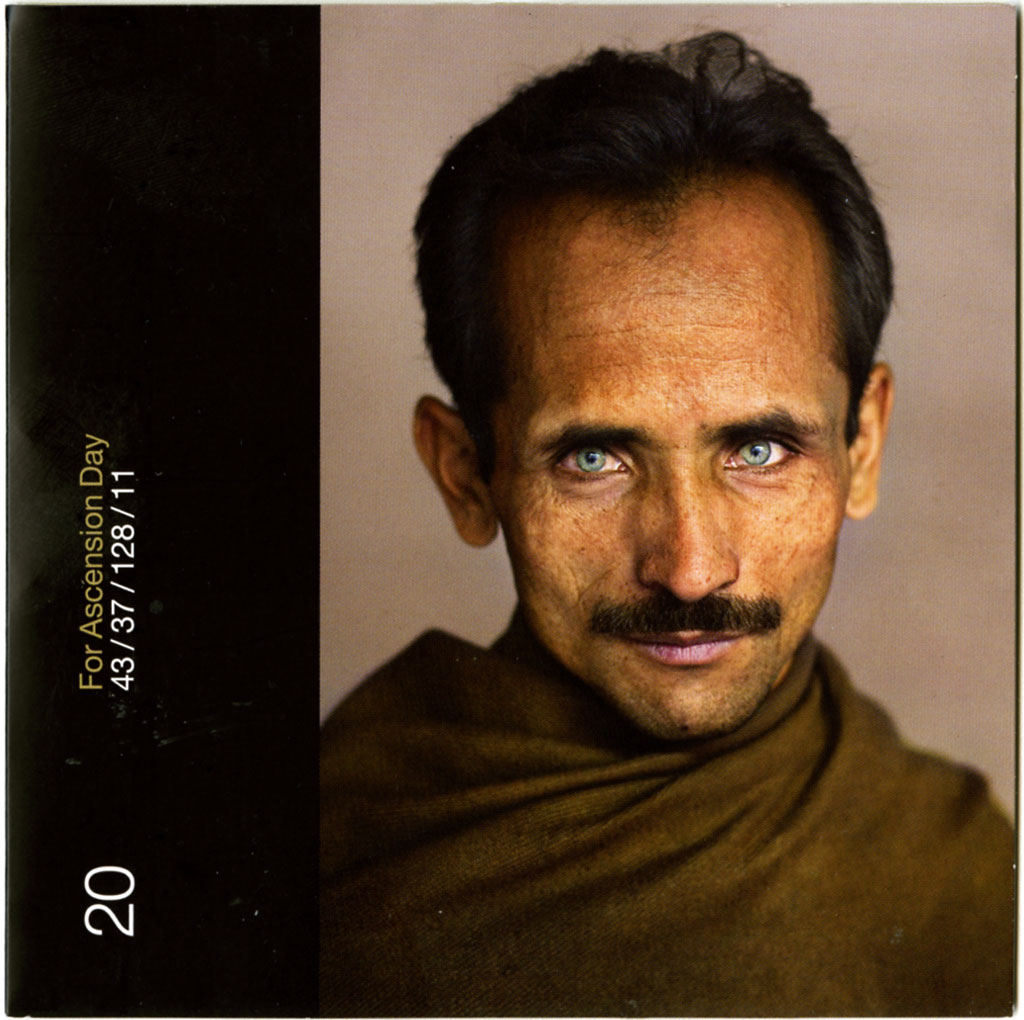 We will stick to our original plan: meet at our Battersea studio, march over the bridge to the King's Rd, join fellow protestors at Knightsbridge tube then move to the original location of the conference, a stone's throw away at Jumeira Hotel. We will give our speeches outside and then go to the secret location.
Battersea. We were ready. I had given all our workmates the day off. Cindy the youngest member of Climate Revolution had done a great job mustering the troops and organizing our students to make plaquards. Others who joined us were in carnival mood, dressed as zombies and ghouls.
I hadn't wanted a carnival. It's a matter of life and death and I didn't wear my warpaint. We want to attract "ordinary people" and by that we mean people who aren't normally political. But our activist colleagues were right – we needed the Carnival. We were only expecting up to 500 people and that's how it turned out. It was a week day, also Budget Day. Did the conspirators plan that? – don't underestimate their fear of the public. John Sauven, head of Greenpeace couldn't come because he was dealing with press on the budget. And what about students? Simon, a student activist friend should have been organizing but he didn't even show up: because he's doing his exams. Come on !
We looked great. There was lots of press. I was asked to lead the procession. I bowed and put my hands together in prayer, as you would before a battle. Then off we were!
People in King's Rd hailed us in support and Cindy shouted out, keeping us all together because of having to stop for traffic. I talked to some of my friends as we marched along. At the Jumeirah Hotel we met Rhythm of Resistance, a samba band and campaigner Nigel with his demo/disco bus. In front of the hotel was a little square where we gave our speeches and thanked the fighters in the anti-fracking camps. Vanessa Vine From Balcombe is an inspiring speaker and full of powerful information. She's been fighting fracking for 3 years and is just back from America. The queen of it all was engineer Tisha who was responsible for much of the organization and acted as a master of ceremonies –the prettiest ghoule you ever saw but she stays anonymous so you can't see a photo of her. Then some of us got on Nigel's bus and went to the secret location near to Bunyon Fields near Old St.
When we got near I looked out the window and saw another demonstration walking down the main road and they looked really interesting, lots of them, then I read the plaquards and realized it was us, the others had come on the tube. (They had a good time explaining to people what we are about – life and death, yeah!) We met our mole who had been inside the conference so we are informed of the conspirator's agenda. See their confidential presentation www.talkfracking.org  The secret location was Armoury House on City Rd.
The samba band was really important – lots of drumming outside the gates. The press asked me, "How do you feel that the pro-frackers have come here to escape you, protected by the army?"
You sometimes worry that you're so small against the enormous power of the conspiracy to destroy – press, politics, business, banks – and what perhaps only seems to be the acquiescence of the general public. It is heartening to read those articles of mutual support in the fight, from journalists of the standard press, especially the Guardian and those on the internet and of course the support of all the NGO's and sometimes great groups of people. At our demo someone gave out flyers for the Green Party, a great group with whom I entirely agree. They start by condemning austerity. If all the world would put their financial programme into practise we could save the earth and economic collapse.
It's so important to demonstrate for your beliefs. We will win because we have to.
Evening dinner with the Gardiners. Our mutual friend Romilly McAlpine was with us and also Ronnie Harwood, screenwriter of The Pianist. He was so sweet.
Thurs, 20 Mar: Half way through the afternoon I discovered one of my earrings missing, 100 yrs. old which had belonged to Andreas' grandmother and mother. I didn't know how it had happened. They are large and heavy enough for me to notice. I had moved very little and so was looking again and again over the same ground. Murray had seen it missing but before that two women colleagues whom I had talked to said I was wearing it earlier. They are both observant and careful so that meant I had lost it at work and not in the street. Then each doubted.
Andreas was upset too and we gave our concert tickets to Pepe and went home and ate our dinner in silence. Then I looked in the little box where I keep my jewellery and found it. I remember answering the door whilst putting the earrings in this morning. Andreas told me he had looked in the box as soon as we got home and not found it.
The point is this : over and over again Andreas had said, " How can people be so sure? I am never sure. For me to be sure I would have to have made comment, noticed something in particular" It was the same with Suduko. I didn't doubt enough.
I once remember a friend wanting to show me something on the T.V. It was when I had my old room at work and I said, " I think there might be a TV in there." I wasn't sure but there was. I don't watch T.V. We only notice things that are meaningful to us.
Sun, 23 Mar: Afternoon at the Royal Festival Hall. Got some take-away Egyptian food at the Southbank outdoor market. Went into the concert. Lorin Maazel: Til Eulenspiegel ( Richard Strauss' anniversary) ; Mozart violin concerto, soloist Esther Yoo, Chinese brought up in N.Y., 20 years old. She was a delight. Tiny, moving her head to the music. Andreas said," Mozart would have loved her with her swirling ponytail."; Musssorsky's " Pictures at an Exhibition" orchestrated by Ravel. Shit! Everybody, hear it before you die.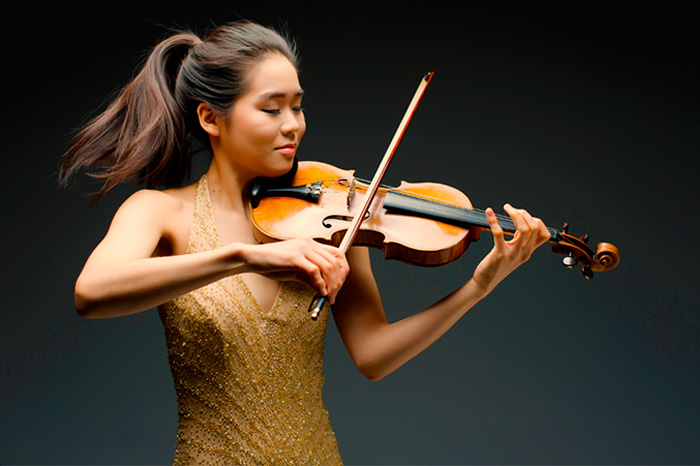 Mon, 24 Mar: To the Almeida. Headlong/Nottingham Playhouse production of 1984. I saw it c. 10 years ago but they've changed it. It was perfect before and it's perfect now. Such skill, such use of theatre. Bravo! You know I mention the book as being one of the greatest importance.
I went with Andreas, Ben and Tomoka. I wanted to cry. Winston was played by the actor Mark Arends, so little and thin. He was actually quite tall but he was being tortured and even then he stuck up for himself, his hopes (you didn't see the torture, you saw what it did to him). He was fighting for his love for Julia and hope for somebody not yet born. And there came the point where he couldn't stand the torture. He had to say, "do it to Julia",  and then he lost his identity. The whole world had him in its power all the time even when he thought there was a chance.
Tues, 25 Mar: Miss Piggy was in London for the premier of her new film and we are proud of having made her such lovely clothes for the film. So this afternoon we went to see her at her hotel where she had invited us for tea. Andreas had met her at the fitting so he introduced us. She couldn't have looked more pretty in her Save the Arctic t-shirt and her tartan mini kilt. We recorded our chat on video so we'll all be able to see it.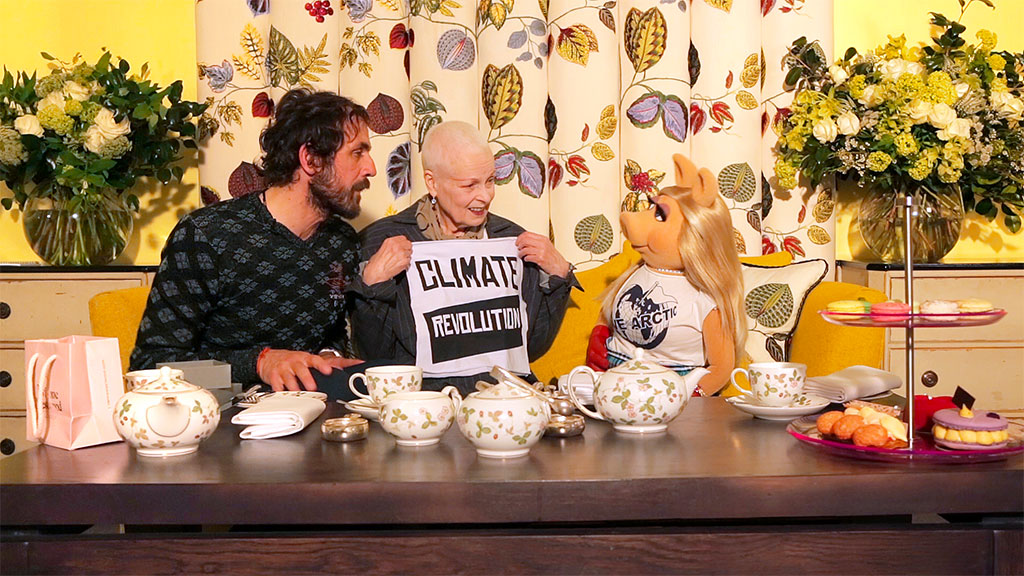 Fri, 28 Mar: Trillion Fund came to see us, Michael Stein and Julia Groves. They're doing very well. Their aim is to open up banking to small investors and at the same time make it possible for people to invest in renewable energy: in effect, energy projects can be crowd-funded.
Julia has been talking to government ministers (lobbying) They have now agreed! – Small investors will not be restricted, anyone can fund projects. Also we are going to get Green ISA's.
Michael seems to know more about energy and energy extraction than anyone. Ask him a question e.g. about the Severn Barrage scheme and his face lights up: it's not necessary, disused Welsh harbours are better places to do this. Michael has simple solutions.
One idea could be to work with France and the EU to lease desert in Algeria and Morocco, or Greece who needs the money and build solar parks he explains, we can use the same pipe-line which brings nuclear energy from France to bring us solar.
Indeed Trillion Fund could supply a plan for us to have energy security, as clean as possible and which becomes very cheap once the investment is paid back.
No need to Frack: Climate Revolution talks only sense for the environment and sense for the economy.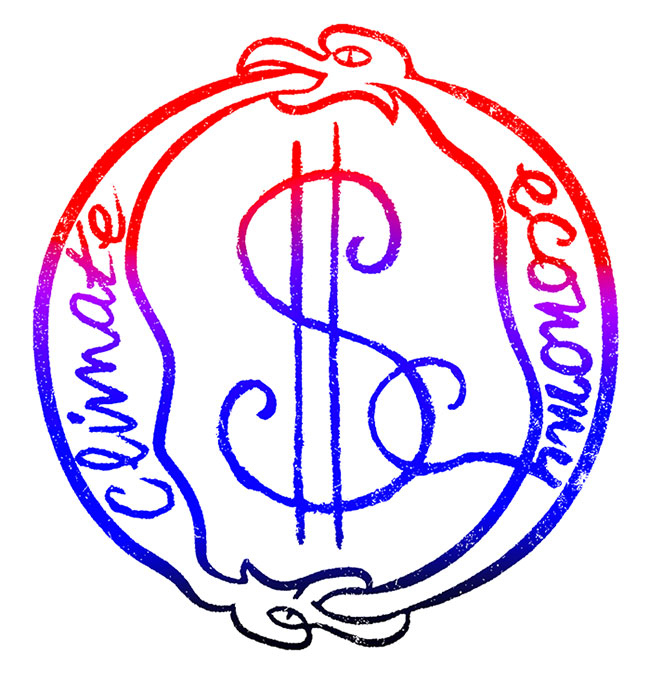 Sat, 29 Mar: Peruvian restaurant. Invited by Cool Earth. Re-union dinner of we friends who went together to the Rain Forest invited by Cool Earth. Treat to see journalist Deborah Ross. Plans.
Mon, 31 Mar: Tonight Andreas and I go to see Fernando in Tchaikovsky's Sleeping Beauty at The Royal Ballet. He will dance the Bluebird bravura.