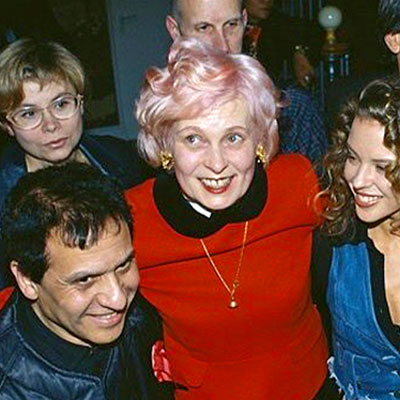 Andreas and I saw Azzedine six months ago at an evening event in fashion week in Paris, he was with his big friend Carla Sozzani, and we were looking at a Balenciaga exhibition prior to dinner. I was so excited to see him, he looked extremely well and in good spirits, and he was saying, 'When you come to Paris you must always pass by'. In the rue de Verrerie, he kept open-house for lunch and always took pride in showing you what he was doing – a shoe half made, a special bustier he was stitching himself. He did almost everything himself because he liked everything under control, it had to be perfect – feisty and incredibly sweet to his friends. So, for me and Andreas it was really unexpected and we mourn his loss.
But at the same time, I want to honour the life of Santina Levy, together with Azzedine, because they're both people with whom I have towering respect and love.
Tina was the ultimate 'sans pareil' expert on lace, for most of her career she was the head of that department in the V&A. At a period of marketing mania, the V&A and several other museums, swept away their expert curators and replaced them with marketing people and spent their budgets on marketing. Neil MacGregor, Director of the British museum at that time, refused to join this madness – on a marketing level, he proved this was false economy because he maintained the number of visitors; visitors who spent more money in their shops and the museums.
I protested outside the V&A museum against this bureaucratic sabotage of culture wearing my fig leaf tights. Santina Levy, as a mark of this woman's noble character – liked the young woman who replaced her. Tina was the key to the collections, so she went to work three times a week for no pay, in order to teach the young woman who replaced her and unlock the collections for her. Since then, I've attended wonderful exhibitions Santina created, and notably together with Jenny Tiramani, because these two woman hold the keys to the past and through the School of Historical dress they're able to pass on their knowledge.