Vivienne's Diary 06.04.20
I have lived for nearly 50 years on the edge of Clapham common – common means that it's land for use by the common people and its history goes back to the feudal system when it was much more wild and people grazed their animals there – shoot rabbits, pigs would eat acorns. Just to know , Soho was the hunting ground of Henry VIII, "soho" is the cry of the hunter.
We go in the evening when there are hardly any people there, usually an ambulance, once there were 4 screaming along the edges. There was one plane and Andreas said it was probably bringing PPE from China.
On Thursday, we were in the middle of this tremendous space. I love to see the bare branches against the sunset. We realised it was 8 o'clock because from all around came the sound of clapping and ringing of pots and pans for the NHS.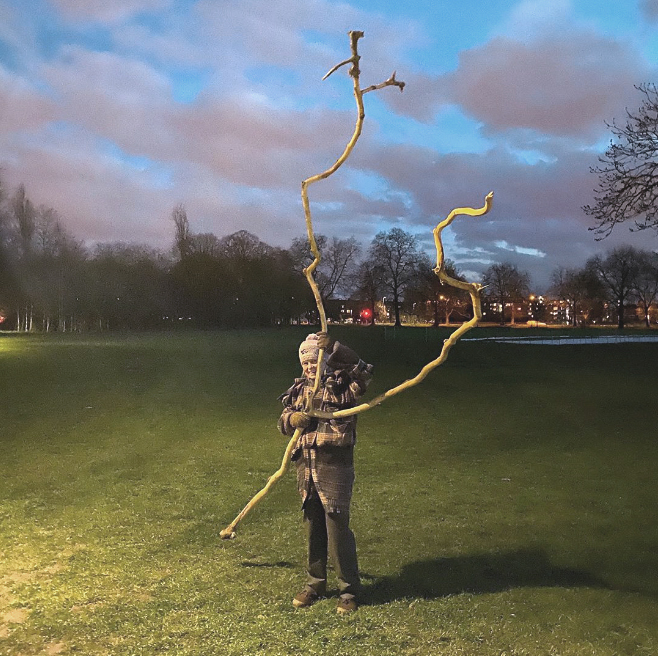 @ndreaskronthaler
We've had such beautiful weather on the weekend that Andreas said over and over again, 'clear sky, no pollution, we've never seen a blue like that for generations.' We have to keep it. We can't just let capitalism start all over again. Capitalism is the cause of all our problems. It's a killer.
We need a 5 point emergency plan to introduce No Man's Land. The Manifesto says we should introduce it carefully at first in order to work out exactly how to apply it. We have to find a way to speed it up and that would mean targeting specific groups, e.g billionaires, tax them on the fortunes they make from ownership of land or free use of it. Who are these people we need to sort them out?
Operation Blue Sky must be specific, one point would be stop arms production. The Labour party should adjust their manifesto accordingly. The New Green Deal can't work unless it's based on No Man's Land. We're lucky to have the Queen – the right kind of patriotism, she knows what makes us special and great.