Vivienne's Diary – 17.11.20
Today's diary is a catch-up. So important that you follow me. What am I doing? I don't have enough hours in the day to tell you.

The Manifesto is a plan 2 save

from final cra$h. We will change 2 a fair distribution of wealth. Target

5 yrs or it's too late.
Regarding Gordon's financial analysis. The financial

is in denial

still believe

works. They believe the problem is corruption of the banks. There isn't time 2 fix it. The whole

is in denial except the scientists, Greta Thunberg & her young supporters & me, because none of them realise the emergency: we need urgent action.

= war economy, run for investors, 98% waste.
Greta how the BBC lies. 'Spitting Image' : Greta 'rocks up as doomy weather-woman'.

Turns her into a joke, turns climate change into a joke.
Just after 2008 cra$h, I had a conversation with an incorruptible

ev.body wanted 2 talk 2 him

 important financial Editor. In denial. I tried 2 tell him that the economic crisis & climate change cc R 2 snakes that eat each others tail. The one is the cause of the other. He said, if U can say how cc caused the subprime mortgage scandal then I'll agree with U. He thought it was a question of bankers corruption. No, it's the syndrome of waste & destruction & investors can profit from this.

So important to follow the diary. Gordon's analysis is a basis 4 Climate Revolution 2 penetrate

. It's a tool 4 Climate Revolution team 2 approach the financial gurus & supporters.
I want 2 use the diaries & Friday speech in future 2 deal with the Manifesto. I am not going 2 put it out all in 1 go. I'm going 2 deal with it bit by bit. It's so important to realise this is the only possibility, because I want U 2 absorb it fully so U know it's our only chance. I will launch it at the right moment together with the playing cards.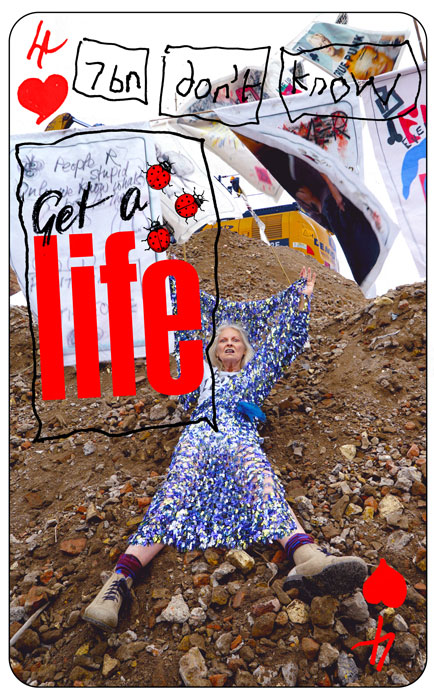 This playing card: 7bn don't know – they don't know that Get A Life means 2 things: it means U get out what U put in. It also means we don't have a future unless we act now.
Julian Assange is the most important human rights issue in

today & I believe if we free him, this is an attack on legal corruption & it will shine a light on economic & political corruption. So my personal campaigning will be unremitting. At present the Friday speech is a series of 9 reminders of torture since civilisation began (civilisation has been run on false economy until now.) We have 3 more 2 go & we need 2 ask the Queen 4 a reprieve of Julian's torture under the auspice of the Crown Prosecution Service.
I want 2 thank our followers for their feedback.
Dominic Hourd: Thank you for the comment that the playing cards would be a great educational tool. They are already being used by IoU. What I would do, I would pick out at random & then ask my card-playing partner – how are they connected & then he would do one for me. That way U really educate yourself.
Anonymous – I love U. U are controversial, U write poems, U R so passionate. U believe that self-education makes U a freedom fighter – you're right.
Jeffry Jordan – U send me a 1-liner nearly every day, I am so happy 2 know that you're following me everyday – speech & diary. You're sharing with friends, you're American, we R sending the Manifesto 2 Pamela Anderson with the hope that she will share it with Jane Fonda & Joni Mitchell. Begin an activist campaign 4 No Mans Land.