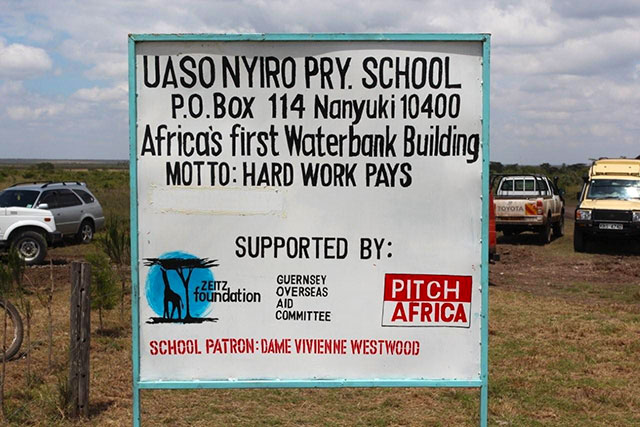 I went to a reception to mark a CNBC film on the philanthropic projects of Jochen Zeitz and the Zeitz Foundation. Jochen owns Segera Ranch, a 50,000 acre wildlife conservancy in Laikipia Kenya and his foundation works on conservation, cultural and community development projects with the 420,000 people in the area. Andreas and I visited Kenya and Segera and have since become Ambassadors for the Zeitz Foundation.
One of the Zeitz Foundations projects is at a local primary school, the Uaso Nyiro school, which I am the Patron of and have provided books and other support to for several years.  The school won a prize last month as the 'Earths Greenest school' from the US Green Building Council. When I heard I said 'no wonder' because they have absolutely no carbon footprint and Zeitz have just built the first ever 'Waterbank' buildings there, which are designed by PITCHAfrica.  The way these buildings are designed means that they capture all the rain that falls on them and store this in a huge 150,000 lt tank underneath the school.
Now they have all the clean water they need, they had absolutely none before, and this means that the health of the 770 children attending has improved dramatically and attendance at the school has increased by about 25%. They also now have water for agriculture and a big conservation agriculture plot which provides green vegetables and other food for the children and trains them and the rest of the community how to farm with minimal water and no pesticides or fertilisers.   They've also planted thousands  of trees and set up a nursery for indigenous trees and they have an Eco Club which engages in environmental activities throughout Segera and Laikipia. They are using the same design in other schools in the area. I suspect everyone will be adopting this design for schools soon, it's a great idea.