Vivienne's Diary – September
Maintaining the Life Support Systems For The Earth By Captain Paul Watson
Sun 1 Nov: I am very late with my diary. Just writing up the last 2 months. And I'm going to skip and tell you only the major events.
September was very busy. Contributoria the newspaper I edited – this issue on the environment and our politicians are criminals campaign– came out, and I was pleased. The graphics were exciting. Contributoria was affiliated to the Guardian but now they want to cut loose so as to have complete editorial freedom. Good luck!
I am always working to improve the structure of our company and I had a visit from lovely people whose company is inside the Scottish border and who weave our blanket and cloaks. And I took part in dear Tracy Worcester's film to campaign against the terrible suffering of animals in pig factories. 90% of your bacon comes from them – 3 major animal monopolies. Her campaign is farms not factories. You can stop this by how you shop. Take the Pig Pledge – We did the T-shirt and used it in our fashion show. Or be vegetarian like me.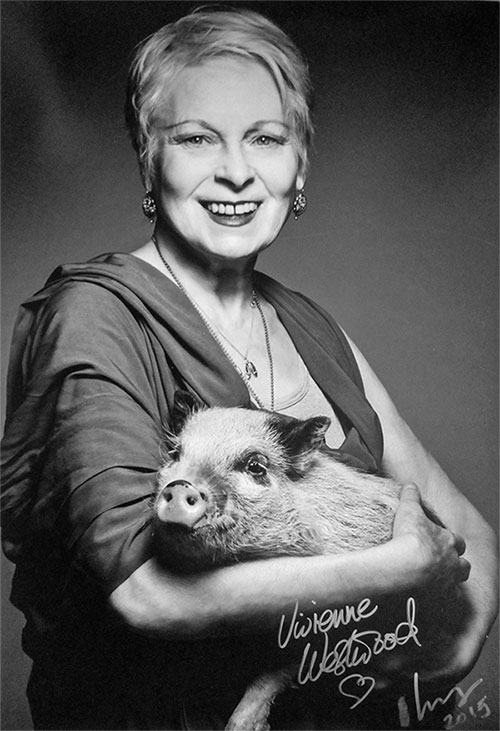 Lush campaigned and raised money, against TTIP. We did the packaging for the Lush campaign and the shops gave away copies of Contributoria.
I went to 6 evening events to support other NGO friends – fundraising. One was a film about Mahlia and her work and one was our own event with Cool Earth which raised £400.000. In between we did our Red Label Fashion Show.
Sun 20 Sep:
Red Label SS16 Press Release
The most important philosophical question ever asked is "what is a good life?" A good life is one which mirrors the world.
That means that you understand the world through art and culture. You understand the genius of the human race and you understand yourself in relation to it. You're like a little tiny shard of mirror glass that's exactly a copy of the whole world. You're very beautiful because you understand the beauty of the world and you understand the human race and you want to do your best.
At this point in time it's incredibly important, also, to be political because we face incredible danger from our politicians and we've got to stop them! They cause climate change and war. The worst thing that politicians do is to pretend that nothing has changed when in fact everything has changed because the human race faces mass extinction, and we face it really soon, it could happen that by the end of this century there are only 1 billion people left. Why do the criminals (politicians) want to do that- because it enriches them, but every one of their policies is a crime against humanity. I am here to say something like a crazy person because 'the criminals' aren't saying it, they're all pretending everything's normal but they're the ones who are really crazy because they're taking us to mass extinction and we have to do something.
So what are we doing? There is a demonstration outside the fashion show today. These people are model & activist friends of mine, they have asked me "what can we do?" and I said to them "you've got to demonstrate! Let's build demonstrations. Public opinion will stop them."
They look great and the idea is that you can have a good time at a demonstration but more importantly it's a matter of life and death. I'm saying something you don't hear, and we should be hearing it. And we've got to keep saying that politicians are criminals and that way people will get the idea that we're being completely misled and lied to.
I'll pick out one more special detail here. It's about Lizzie Jagger and her walk. Though she's been educated mostly in England she sounds just like her mum – from Texas. She is charismatic with such a giggle filled with happiness. You can't get enough of it.
This is her walk as Andreas described it: The walk of Lizzie Jagger! She exudes presence. – As if the Roman legions had been sent out in advance to prepare for her advance – the path of her triumph. She proceeds without molestation, one step at a time. She think about every step, when she turns a corner she thinks, now I turn the corner, takes a little step back to adjust her position, hands on kidneys at the back, pushing herself forward.
And the emperor went forth and the multitude acknowledged her. I never thought I'd see the day!
Fri 25 Sep: Leonard Peltier has been in jail for 40 years, we know he did not commit that crime. Many years ago I was collecting VIP signatures for the Leonard Peltier is Innocent petition, that's how I met Pamela. Geri from Ireland, a commited supporter of Leonard Peltier came to see me. Now is the time to build the campaign for Obama to free Leonard. Leonard is in a high security jail and is not receiving proper medical treatment, the prison officers requested that he be transferred to a more leniant prison, unfortunately just one person said no, so Leonard is really suffering. "Don't let me die in jail". Geri just sent me a letter, which you can use to support his case. support letter
Ireland For Peltier Campaign and the International Advisory Board: 
PLEASE SHARE FAR AND WIDE: 
It is time to apply pressure
USP 1 Coleman is once again on lock down. I cannot express enough the deep concern we all have for Leonard. As we reported last time his health deteriorated and he has been quite sick because of it. Now, only a few weeks later, they are once again locked down, Leonard has not recuperated from the last lock down. Please pray for him and send him a note letting him know the world is watching.
Please call the BOP:
Demand a transfer to medium security in a location that will afford Leonard quality health care. Do NOT contact the prison. Instead, contact:
Charles E. Samuels, Jr., Director
Federal Bureau of Prisons
320 First Street., NW
Washington, DC 20534
Telephone: 202-307-3198
Email: info@bop.gov 
Be respectful, but firm. The situation is life threatening. After many years of high blood sugar, Leonard is at serious risk for kidney failure and the need for dialysis, blood vessel damage in the eyes that can lead to blindness, and nerve damage in the feet that could lead to the need for amputation. Supporters should also remember that Leonard already suffers from a heart condition. Heart disease is, in fact, the number one cause of death in people with diabetes.
—–
Then the Gold Label. These shows take preparation. We went to Paris on Wednesday for the show on Sunday. On Tuesday the night before we left I was exhausted but I had one thing left to do, I had promised Andreas to make a dress out of a long elastic net of 2 inch hole mesh and embroidered with sequins. The idea was to stretch it out onto the stand/dummy/mannequin then pull it round into a tube and "sew" the sides together by pushing a strip of gossamer fabric through the holes.
I pulled the elastic net out of the bag. It came out all together like a bouncing solid pipe, a snake of sequins. I threw it on the stand, I didn't know where to begin. I couldn't.
Andreas wound it round his neck, hanging like a boa and played around with that idea. He was on form. He then pulled it around him and held it and walked with it and posed. This is the dress he made in 5 minutes. You could do anything with this net. It was like chewing gum, it fitted anything and it stayed where you put it. The hardest thing is fashion is the right use of fabric. You can play with it, wear it many ways. Just pick up the boa train and stretch it round your head and shoulders if you want.
Andreas did this Gold Label collection solo but of course with our team. I hardly touched it. When we arrived in Paris on Wednesday afternoon Andreas was relaxed and in a good mood, though tired from hard work. And now I'm going to tell you something about love which is an unusual thing for me to do.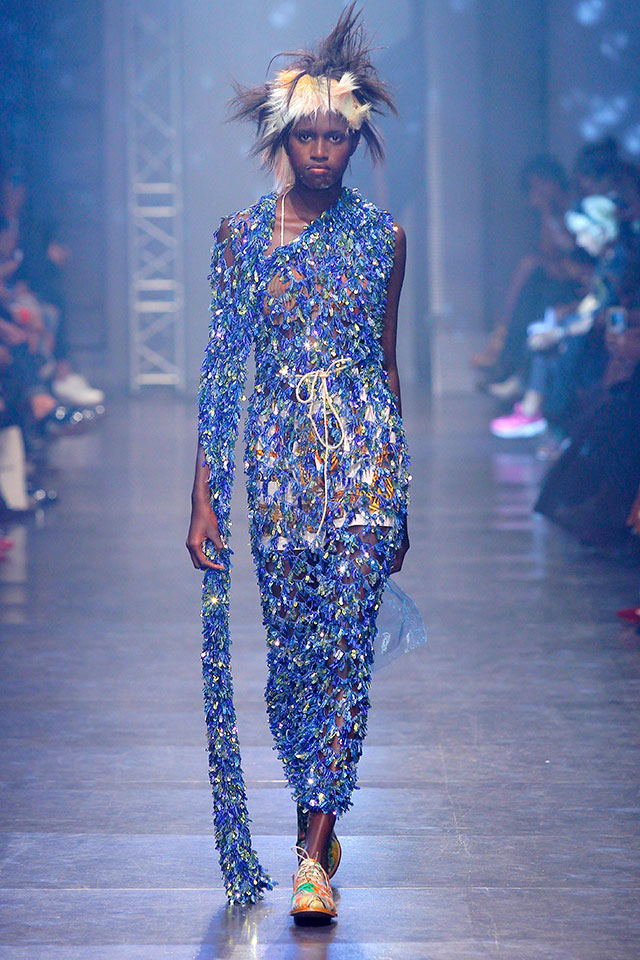 Yasmine's shop, selling her underwear is next to one of the best flower shops in Paris. We met her with the idea to get something to eat and for Andreas to get flowers for our hotel which is in the same street, Rue de Richelieu, Andreas always does this. He loves flowers, it's a routine.
I told Andreas to buy these white freesias. I love flowers in season and they were just beginning to come out and they smelt with a very concentrated spicy freesia smell; the stems were especially green and strong.
The florist wanted to do her thing and add more flowers and I kept saying no. Andreas thought I had a cheek telling the woman that we just liked the single bunch of freesia. He looked upon her as a priestess of flowers whose authority was sacred. So we ended up with the freesias with just their heads showing and embedded amongst a bouquet of white blossoms with woody stems.
While we waited for our light meal in a little café, I said 2 or 3 times, I couldn't help it – I don't like the flowers. Andreas got up, said I was terrible, "I worked my arse off.", stuck his hand in the flowers, broke off their heads and walked out, leaving his lunch untouched. We did find him later and I apologized and we went to the showroom.
The next day I stayed in our room writing the press release and he left. Half an hour later the maid came to the door with a vase of flowers – just a bunch of the same white freesias. I had not realized before that Andreas liked me, loved me so much.
Sun 4 Oct: I was working backstage during the show, checking the girls as they went out. They looked amazing. Also the venue and lighting, the music! I still haven't watched the video – or that of the Red Label. I've been so busy since.
Gold Label SS16 Press Release
Today we present our Gold Label show called 'Mirror the World'- and it's about saving Venice. The problem there is one of repair but also of climate change.
In 12th Century Venice great houses on stilts lined the canals. They were trading posts and they each belonged to rich families and on the ground floor of these houses were shops. All the luxury goods from the East came there and merchants and rich people travelled there to shop. The prosperity of these families was out of this world and they built grand palaces painted and gilded on the outside as well as in.
Bellini, Giorgione, Titian- it was the period of the greatest flourishing of art that the West has ever known. Venice was an emporium of culture.
Carnival- everyone in disguise in St. Mark's Square or disappearing round corners into those narrow streets. The mask hides a time of altered states where the poor become rich and vice versa or the ugly become attractive. It dates from a primitive time when people indulged in excess so that their sins could be forgiven before the new spring.
Come on our march on the November 29th in London. The People's March for Climate, Justice and Jobs. Bring your children, it will be massive. The more people the better the chance to change the world. Come! To mirror the world: be beautiful as the world – you must engage with the world.
Mon 5 Oct: Andreas and I met Paul Watson and his wife (pronounced Y a n a) in his local cafe. One of the most important meetings in my life.