The amount of people forced to flee their homes because of war and threat of persecution is now the highest number ever, while support for refugees has become a contentious subject bolstered by crooked media propaganda. We're big supporters of the Refugee Council whose core work protects children from being sent back to danger and provides vital psycho-therapeutic council.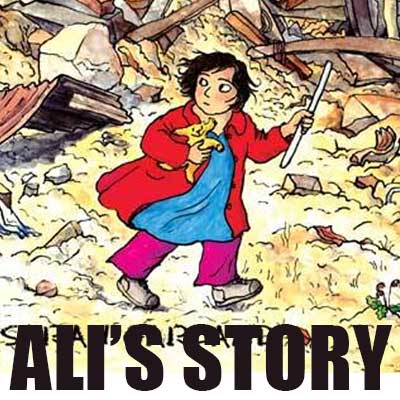 Background Ali was 14 years old and lived in Afghanistan when, on his way home from  school, he witnessed the Taliban beheading a neighbour then setting two others alight. Distraught, he told his father who reported it to the police. The Taliban responded by coming to their home and shooting Ali's father in front of him. Ali's family were terrified that he would be next and his uncle organised for Ali to flee the country with his mother and two younger brothers.
Journey to the UK The family were reliant on people smugglers to make the journey. However, the smugglers forcefully separated Ali from his mother and brothers and put him into a van. The van crashed on the journey, and Ali had to make his way by foot for three nights across the mountains, walking in the snow without the appropriate clothes or shoes, with a broken arm. During the journey, several fellow refugees died and one night Ali was made to sleep with their corpses. To this day Ali has no idea whether the rest of his family are still alive.
Refugee Council support Ali came to us when Children's Social Services wrongly labelled him as an adult and refused to support him; his claim for asylum was then also turned down. He was distressed and vulnerable and faced being returned back to the danger in his home country. Our Age Disputes Project set out to help Ali to demonstrate his real age thereby ensuring he could remain protected in the UK. Demonstrating his age would also ensure that he could access Children's Social Services' support so that he could live with foster carers, go to school etc. While we worked with him on this, our Age Disputes Adviser also referred him to our psycho-therapeutic service (My View).
Ali arrived in therapy as an extremely unhappy, tearful young man who suffered from continuous sleepless nights, flashbacks and a deep sense of helplessness. As the only member of his family who appeared to have survived, his guilt threatened to overwhelm him. Ali expressed his wish to commit suicide as he thought it might be the only way to be reunited with his family. Ali attended 1:1 psychotherapy sessions and the Art Therapy group. His therapist, Shahla, spoke Farsi, a similar language to Ali's mother tongue, which helped Ali to open up as they explored his troubled feelings and thoughts. Shahla encouraged Ali to explore happy childhood memories so that he could connect with his sense of self before the painful separation from his family. Eventually, My View enabled Ali to better deal with his powerful feelings of guilt, sadness and anger. By helping him to connect his past with his present, he was able to begin the crucial process of mourning which was a great relief for him and helped him become more resilient. Recently, Ali spontaneously read out a letter he wrote to Shahla at a celebration celebrating My View's successful first year:
"I would like to say a very big thank you for all you have done for me. I really appreciate all of the phone calls/ visits/ art therapy classes and your dedication to help me get better. I really enjoyed doing art with you because it helped me stay calm when I was stressed. I especially liked talking to you in Farsi because it is so like my mother tongue/ Dari. Your kindness has enabled me to recover and get well again. I think you are the best kindest most intelligent woman in the world – you have helped a lot and many other young people too. I am ve,y grateful to you. I wish you all the best in the future/ I hope one day to make you proud. I have nothing to give back other than my sincerest thanks and a big hug."
Happily, the Age Disputes Project was also able to help Ali prove his age and we are delighted to be able to tell you that through the project's support Ali has been given refugee status and can remain safely protected here in the UK. His case is an illustration of the way in which unrestricted support, such as yours, helps refugee children to rebuild their lives in safety.