Ai Wei Wei's Human Flow is art
Ai Wei Wei's Human Flow is art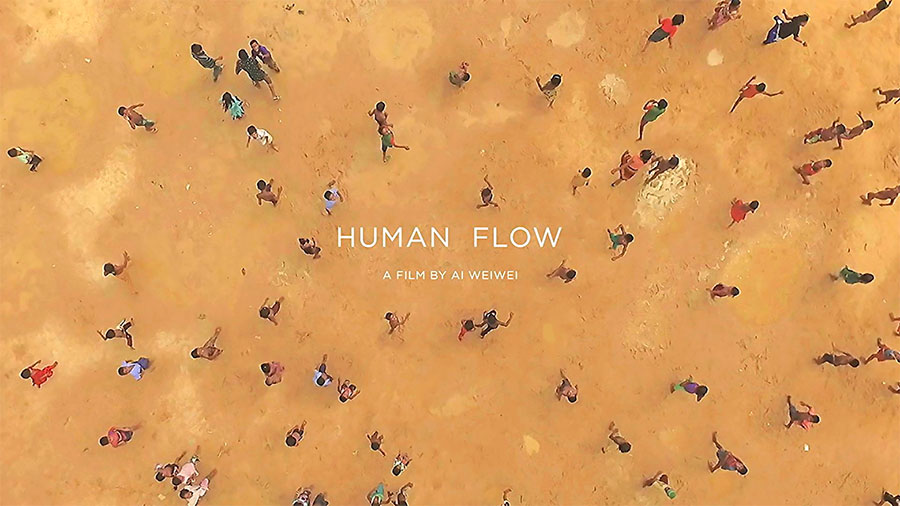 Andreas and I went to see Ai Wei Wei's film about migrants, 'Human Flow'. He went all over the world, from Bangladesh, Pakistan to the American / Mexican border, but not to China. It was artistic. It began with a view of the mediteranean, seen from on high, flipped on to the screen like a tableau – it was just a pattern of waves. A white moving patch was understood to be the wake of a small dinghy, crammed full of people from North Africa in life vests. They disembarked in Greece, friends awaited them on the beach, and babies were handed over as they got out: Are there anymore? When's the next one? Half an hour. Now that they're on land, the migrants must walk to the several borders. Habitually caught up along the way, used as slave labour in Libya.
The next boat was filled with beautiful black men. There they all were in Greece, hoping to move on. A ferry opened up its hold to hundreds of migrants, all were met officially and wrapped in a shock blanket of thin gold melamite. The camps range from throw-up, tiny tents. – One of the migrants said, 'I would say to the people in power, try to sleep here in that tent just for one night.' After three days of rain, the squelching of mud is inside and outside the tent. – to Tempelhof airport in Berlin with prefabricated cubicles, where it's all very clean. Until now, the average time a refugee stays in a camp is 26 years, next year it'll be 27 and so on. 34,000 people leave their homes every day. None of them would choose to leave their homes, and the dream of all is to go back.
My memories:
A group of women in Gaza who meet on the beach to get some peace and quiet, just sitting there on the sand. Gaza is filled with people, so jampacked, engaged in being busy with business – some are allowed out to work – because there's nothing else to do and nowhere else to go.
The migrants ask to be recognised. A man said: 'Back home we heard about your democracy and we ask that you recognise that we are human beings.'
The border now closed – no man's land. The passport was useless. The young Arab lad could neither go forwards or back. 'Let's swap passports' said Ai Wei Wei. You can have my German passport, and I can have yours, which means I can have your tent and you can have my studio in Berlin.', 'Oh yeah? I'd like that!' he said. Laughter.
Andreas and I ask Ai Wei Wei to get his film shown in schools. The most powerful impression was the children sticking their faces into the camera all smiling. Most receive no education. They're cut off from the world, no trees, no flowers. I don't know how long she'd been in the camp, dressed clean in a pink jogging suit, spoke perfect English, an Arab child, she said, 'I'm not allowed to go anywhere on my own, and I'm so bored and my mother is also bored.'
Official people tried to explain where the problem was, none of them got it. – When the penny drops! The problem is the Rotten Financial System itself; Rot$ is our enemy. Rot$ is run by the 1% who in the process cause incredible waste and pollution – cause of climate change and inbuilt poverty: the poor get poorer and the rich get fewer.
The solution is the Free World Economy: http://climaterevolution.co.uk/wp/2017/11/05/two-of-spades/
Migrants are stuck, and it's a problem that will build exponentially. The only possible way we'll get unstuck is if we stop climate change or if immediately, they should be allowed to work. They can't work because of the press, they are the medium that over the decades has been conducting mass xenophobia. – I blame the press for Brexit.
The film ends with a tableau, an overhead ordnance map of orange patches composed of life jackets. Should we reuse them? What does it mean? Ai Wei Wei, you did a great job.