London Design Festival, Lifetime Achievement Winner 2019
–
16th September 2019. Last night, fashion designer and activist Vivienne Westwood received the 2019 London Design Medal for Lifetime Achievement in recognition of her significant and fundamental contribution to the design industry over the course of her career, at The House of Commons Westminster, London.
Each year London Design Festival recognises the contribution made by leading design figures and emerging talents to London and the industry with four London Design Medals awarded.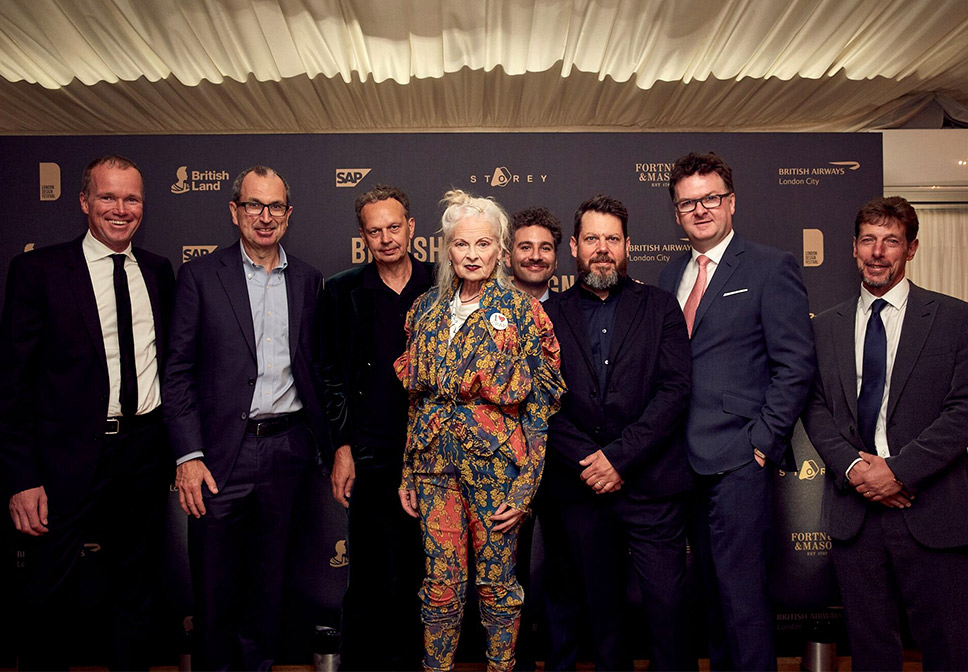 –
House of Commons Speech
Thank you for this Lifetime achievement award. I accept it on behalf of myself and my husband, fellow designer, Andreas Kronthaler. We've worked together for nearly 30 years. He's responsible for the couture end – Andreas Kronthaler for Vivienne Westwood – and I do the Vivienne Westwood line. I'm an activist and I want to use this opportunity to give my message.
'The house is on fire', Greta Thunberg is the one public person saying this. 'Nobody is doing anything, I want you to panic.' She's made an enormous impression, people who form the general public now feel responsible. For example, the Climate Strike march will have more intensity and more volume because of her example. Vivienne Westwood will shut its studio and shops so colleagues can attend the march.
You must now be responsible for the 3 R's in this order of priority: Reduce, Reuse, recycle. It's not good enough to just put stuff in the recycle bin and carry on living like we do. We have to be serious; it's important to be specific for example, nobody in London needs a car except a taxi driver and we should put pressure on government to make public transport free. We should read books instead of magazines and free newspapers. Don't pick them up!
Every NGO and charity is working flat out putting out the fire. But for every step they take, politicians set them back. They put oil on the flames literally, trillion to fossil fuels, feed it with paper money or press buttons, $ is debt. Real wealth is not debt, the complete crash would come within 10 yrs. Together with press they cause distraction, e.g Brexit. The solution is change the economy, I am the only person saying this, we have to do it now, starting this year.
Real wealth is land*, I always write it with an asterix, it includes air and the electromagnetic spectrum, ocean from which we get 2/3 of our breath, 1/3 from the rainforest. The treasure underneath the ground, and the biosphere which includes human cleverness. There is only one way to save the world and that is a rent on land*: One World Rent. Nobody can own land, not everybody can own land that's communism, land belongs to no-one. It will be the only payment into the public purse, it will give us a fair distribution of rent. Change the economy.
I've just written a pamphlet about this simple process, please read it here
One World Rent. This is my plan, NGO's and charities are already working with nature worldwide, dealing with victims of war and cc. They will become the true voice of the people. We shall form a coalition of Doctors giving advice to governments. I have not achieved my lifetime achievement yet, there is only one way to save ourselves, there is no other way: One World Rent. I am the only person saying this, I want us to panic. We have to start this year.