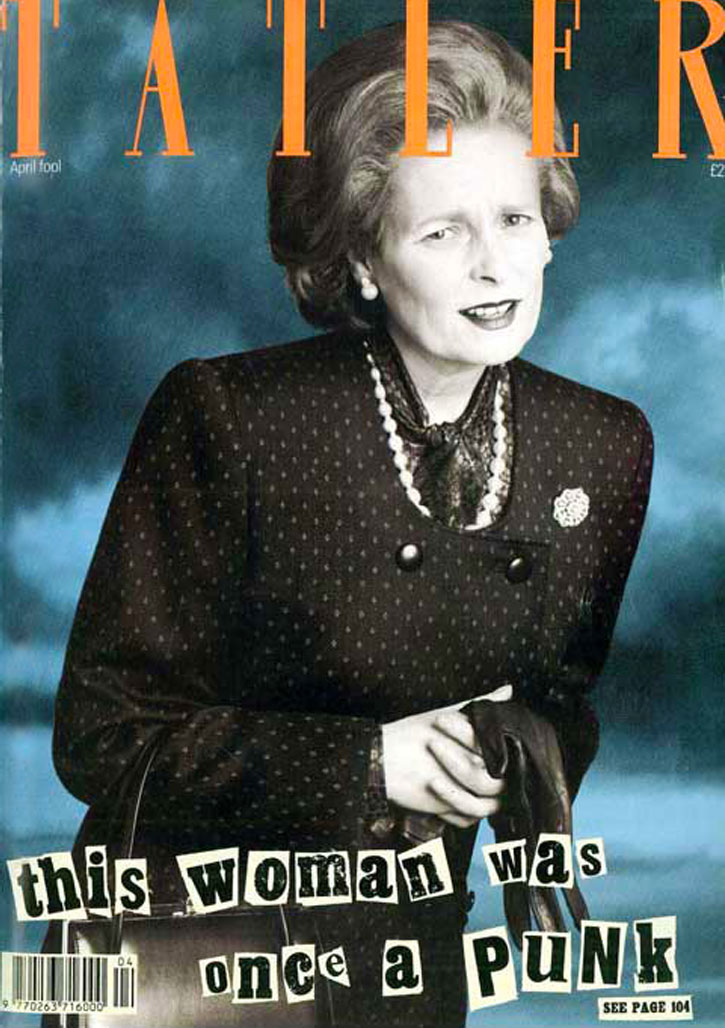 Years ago when she was in power, I impersonated Margaret Thatcher… the suit I wore had been ordered by Margaret Thatcher from Aquascutum, which she then cancelled.
Margaret Thatcher was a hypocrite. That's what I put in my head. I thought
there's the child in the hospital bed and there's the TV camera. I'm going to show the world how much I care.
The photographer Michael Roberts was going mad with delight, "and it needs one more thing, you need to put a little doubt in your head, do they believe me?". That's how we got her.
This cover for Tatler was blownup on billboards during English fashion week, even I had to look twice to believe it was me.
One week later Tatler's editor Emma Soames got the sack – I've never asked Emma if there was any connection.
The Iron Lady:
I don't think the film is going to show the real damage that she caused in the world.
She helped to release financial madness, now the pyramid scheme has crashed.
She's definitely a woman of her time and our time, when will we wake up and take the long term view: Financial crisis is a symptome and the herald of climate change –  coming soon, apocalypse in 2020. Politicians are dumb (Obama never mentions the word, climate). When are we going to listen to the scientists. Stop climate change.