Vivienne's Diary – 2.2.21
I promised IOU that every first Tuesday of the month will be dedicated to culture. Our Manifesto, NO MANS LAND is based on the playing cards. Hearts are for culture. This week is Paris couture. I begin with fashion.
A creative person registers the significance of something and then thinks of a way to use it. This is the beginning of the creative process and a vision. For me, punk was activism, but when I saw my punk collections copied on the Paris catwalk, that's when I realised, I was a fashion designer as well as a rebel.
My first catwalk show Pirates would plunder the third world and history: putting things together, combining traditions. This is culture.
Going back to the 16th century I copied original patterns from history for the Pirates and looked at the third world for ethnic cuts. I focused on the Indians of North America and styled them together, I moved the neck hole of the ethnic cuts onto one side so the garments fell and draped, creating movement and rapport with the body. My first ethnic cuts. Geronimo and the Jolly Roger!
Having created many placed prints on t-shirts for punk I now began my fabric prints

we now have a print catalogue of thousands

geometric designs from Indian saddlebags, grand and dramatic

they dreamed them. Sacred geometry. I organised the size so that I could cut the fabric into giant rectangles to fit the panels of ethnic cuts, resulting in an intact printed design on the body.
Impact of prints is to do with scale and magnitude and romantic association. When you look at the coat of arms in heraldry one of the quarters is often dotted or spotted with little arrow heads supposed to represent ermine (the winter coat of the ermine is white and its tail tip is black, imagine how rare to trap this tiny animal in winter and then line a Kings coat, the most expensive fur in history). These seemed somehow to fit my noble Indian theme and as well they looked like little fir trees.
I was fascinated by the idea of a dusting of red microscopic spots which would colour a white background pink. If you put more than one colour, you can't actually tell what colour the fabric is

a kind of rainbow grey. Jumping to the Crini collection, I introduced a giant white spot on a red background, it reminded me of Mini-Mouse and I wanted that because I wanted the Crini to look like it belonged to a doll. Within 3 months, giant white spots on a dark background went viral.
Incredibly when you look back at religious medieval paintings, we notice that all the brocades have nothing other than a giant pomegranate design. This goes on right through to the renaissance. In their portraits, I was fascinated how the giant scale of the pomegranate design became patches of abstract gold and black, by the way that they cut it into strips and made borders of 4 inches wide or a foot high on the hem, round the edges of garments of solid colour.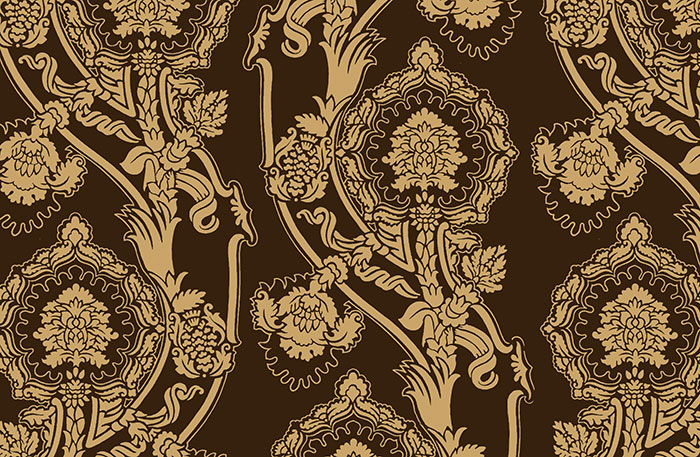 So I too have made great use of this pomegranate idea in my collections – in knitwear and in woven damask. I love the idea of chopping up a giant design.
Even giant spots, I just love it all cut up. It is all to do with what seems significant because you find a way to reapply it; yet it carries its heritage with it adding to the richness of the story you are telling. This is culture, last season we used the designs in Chrissie Hynde's abstract paintings in our prints so pure art transfers to applied arts. We gave a donation to her charity Ahimsa – slaughter-free milk.
Andreas showed me on his phone the Paris couture beginning with Valentino, and I thought it was so special, and it was shown in this baroque hall – it was so rococo, this giant vaulted corridor and so much better without the audience, it really did come from space – without the atmosphere of financial bull market. I loved the hair and makeup and I thought to myself, would I wear these clothes? I thought, one or two of them, yes, I would. But only in a different world to the one we have now.
Ev. designer projects their vision into space. That's why I once called a collection Clint Eastwood

those bare hills where no-one else lived. Taking Proust as a context, looking at photos of 'Vive La Cocotte', I imagined Nadja Auermann and I thought what a vision for today it would be to see her among people crossing the Seine, on the wood bridge from the Louvre to l'Institut, walking in platform court shoes wearing this hour glass suit of scarlet cashmere with hat. Took my breath away!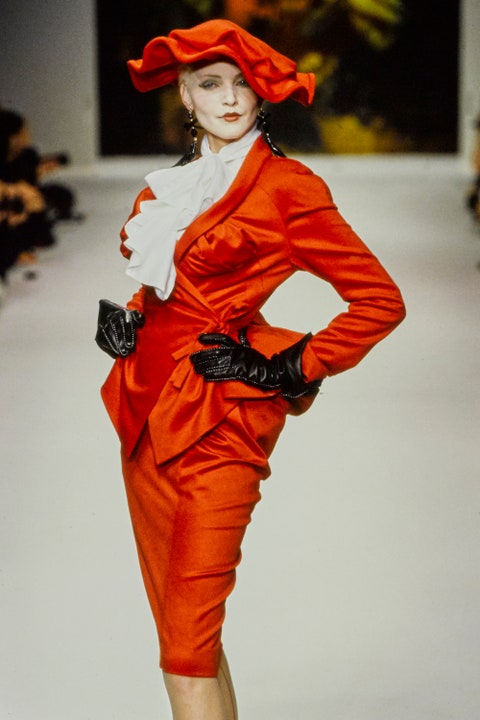 If we achieve NO MANS LAND

 perhaps the only fashion would be couture. We would have a fair distribution of wealth so we could afford it. The question always posed: nobody can afford it and anyway where do you wear it? The economy in

is buy less, choose well, make it last. And couture would have to be wearable otherwise nobody would buy it, and we could hire couture for special occasions. Couture is the only sustainable economy: highly skilled, labour intensive and sold at true cost.
I said this to Andreas, these digital presentations are so extreme, who's going to buy them now in Covid times? Andreas said, it's really important: though nobody buys them, what's important is that we have them to protect the skill. All the collections were inspired from the third world and from history, this exchange is culture.
Fashion is what people see as romantic. Our heroes are sportsmen

are teams are exotic, filled with great looking people from around the globe with fantastic hair, I'm thinking of Colin Kaepernick. Another theme is poverty, clothes that look worn out, torn; handed down, don't fit

2 big, 2 little. The more we live in a privileged and virtual world of alienation, the more we have a nostalgia for living on the knife-edge of reality.