The Vivienne Foundation – 30.9.22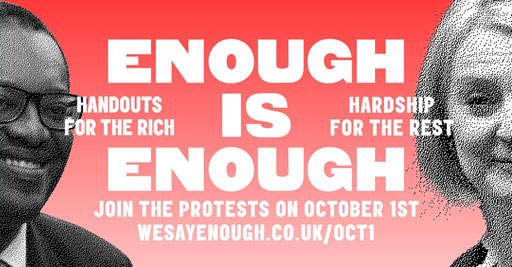 INFLATION – I wrote this piece with my brother, Gordon
Inflation is not prices going up – it's money going down.
"The price of a pint has really gone up"
"You know my house has rocketed up in price  – I'm a millionaire"
"Better stop smoking – cigarettes are nearly a pound each"
People accept inflation like they accept bad weather, something from above.  People fail to realise that money has simply gone down, usually through bad government policy.
Governments just borrow the money, fix the problem, GET RE-ELECTED, easy.
If interest rates are half a percent than everybody starts borrowing and this creates debt, values go down and this is inflation.  Every time you hear 'inflation' it means interest
rates go up.  Money has been made cheaper and governments have been bingeing, spending borrowed money with little concern for future generations being saddled with a
growing pile of debt.
But at a certain point these debts become so huge that they're difficult to pay back, especially when the world is in political turmoil causing interest rates to rise e.g. Russian gas.
Many economists feel that the world's banking systems have already gone over the edge and are on a road to debt oblivion.  The global debt is now a matter of trillions.
It's in this toxic environment that we find the new government of Liz Truss is creating more debt – £150 billion: cutting taxes in half for business and tearing up regulations.
In defiance of Britain's net zero goals they plan to ditch green projects, lift the fracking ban and allow more drilling for oil and gas.  They plan to reverse the recent national
insurance increase, to keep company corporation tax at 19%, to lower income taxes on high salary earners and to get rid of the cap on the bonus pay-outs bankers are allowed to earn.
It seems we are returning to Thatcherite policies of 'trickle-down' economics making the rich richer: the richest 10th of households will benefit by £4,700 a year, the poorest 10th of houses will get £2,200.
But this new debt splurge is not being well received.  International trust in the pound's ability to continue paying its debt obligations is being questioned and the pound's value
internationally is plummeting.  This is simply fanning the flames of UK inflation, making life ever more painful for many families.  She's blinded by ambition and it's a gamble.
When prices are rising faster than wages, food, shelter and clothing costs can become devastating for a poor family.  We now have growing numbers of people unable to find
affordable housing, we have nurses supplementing their living from food banks, we have ambulances marooned outside hospitals with patients inside – our newspapers are full
of a growing fear and desperation in society, normal families worried about the future, unable to afford a decent life.
It is in this environment that Mick Lynch of RMT together with the rest of the Unions are coordinating a national day of strikes on October 1st to demonstrate for a fair distribution of wealth.
Green economists predict financial crash by 2026.  Climate change and financial crash turbocharge each other.  NO MANS LAND is a sustainable economy
which imposes fair distribution of wealth by its application and structure.  Land belongs to no one, everything that nature gives us free cannot be privately owned.  Land is the only wealth and a true economy must be based on the value of land

 .