The Vivienne Foundation – 14.10.22
It's as easy to save

as it is to save Julian Assange. That's come to be rhetorical because it's likely we've gone over the tipping point.
The protest for Julian on the weekend was a major event. If we free Julian it will make a hole in the wall of corruption which is world government: Witness the Truss government! Her cabinet is totally pc in its diversity but they're all raving Tories.
We now have a global war economy. Trade war and the sale of arms is our biggest earner worldwide. War is the biggest polluter.
Julian is a war hero, a publisher who exposed American war crimes.
Wikileaks was a phenomenon, a gateway to press freedom and truth, a means by which to protect whistle-blowers so that the press could freely make use of their information without fear of libel.
Julian published the collateral murder video showing an American helicopter crew shooting down civilians as if it was a game. It caused viral outrage.
Ever since, he's been America's most wanted man, their biggest threat: they had to cut him down. Unfortunately, the press did not support him in the scandal invented by the security forces. The whole world cooperated in trapping him. Early on the UN declared he was a victim of torture and called for our country to release him with compensation, but were ignored by our country.
On Saturday, approx. 20,000 people held hands around Lambeth and Westminster bridges for free speech, it was a peace protest, and involved justice for Palestine. America is supposedly trying to make peace between Palestine and Israel yet they need the Israeli base to fight for the US in the middle east. This protest gave us the confidence that justice will prevail.
Julian has Covid and he is in isolation. We don't know if the high court will hear the appeal until next month when they announce the decision, and you can't go to the European court until you have exhausted all domestic legal avenues/systems.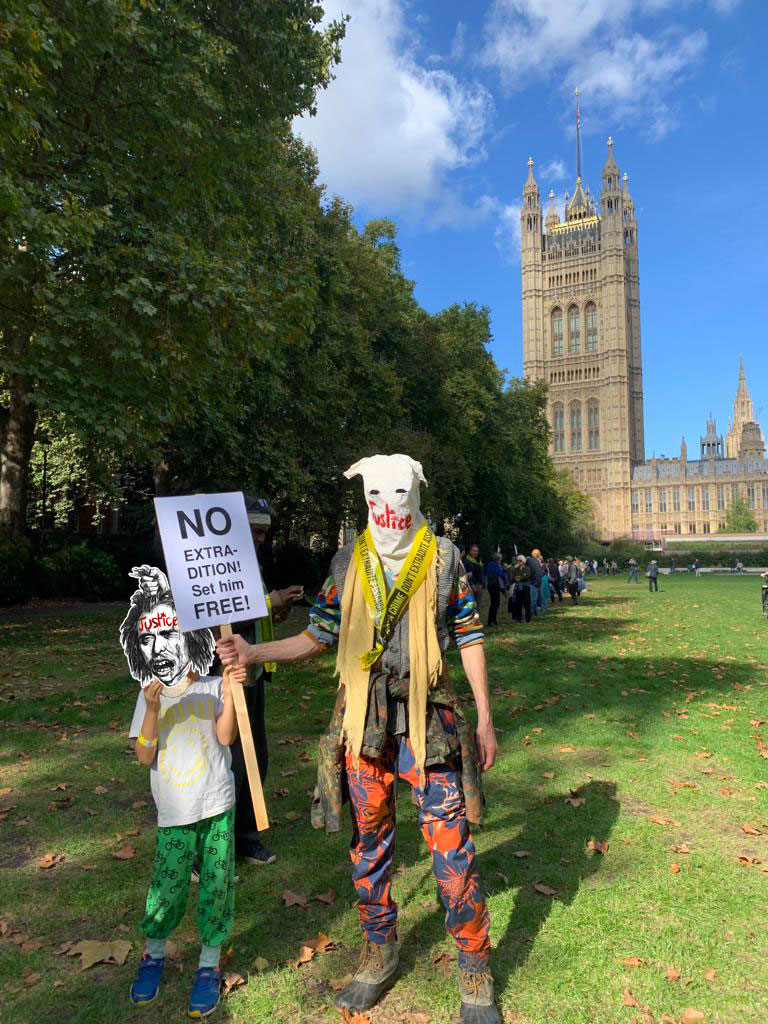 Support came from Climate Revolution and members of staff from Vivienne Westwood – Ben Westwood and Bamboo. Every 1st Tuesday of the month we operate the 'guillotine' in our Conduit Street shop installation demanding justice for Asssange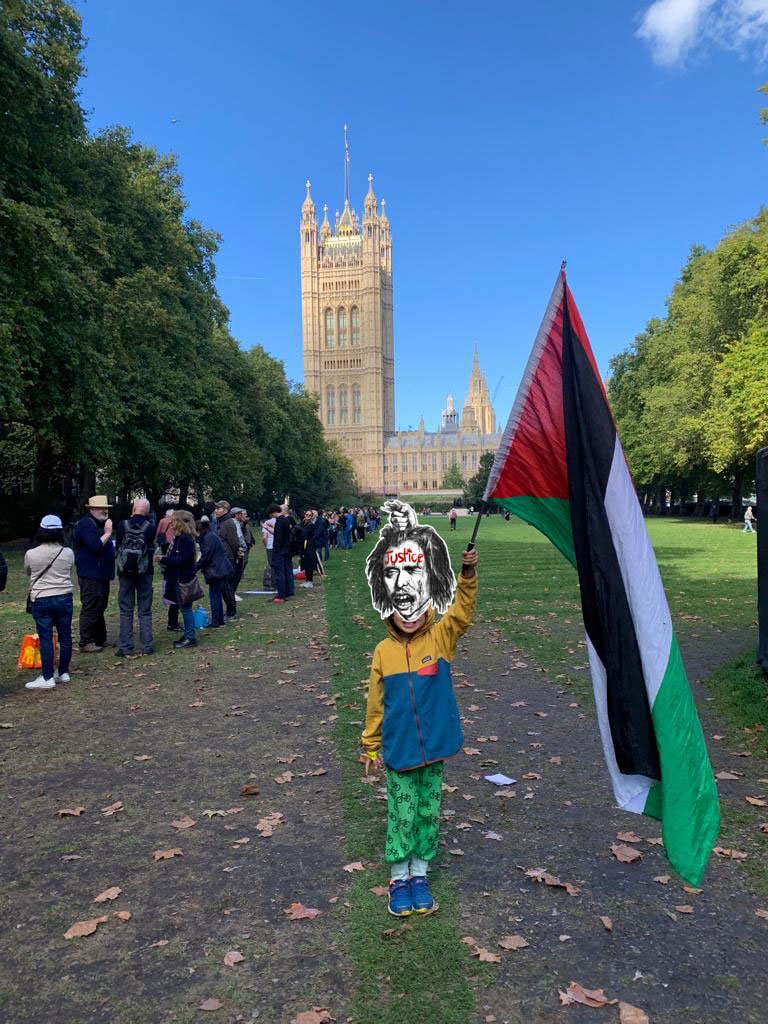 Bamboo holding the Palestinian flag