VIVIENNES DIARY – DECEMBER/JANUARY
Dec 1 Jan 31: Valentine's Day. I am taking a day off. It is the middle of February and I am just writing up my diary from December till end of Jan. Andreas and I are under pressure to finish the Gold Label collection which is in Paris on 7 March. In between we present the Red Label collection, which is finished – in London on 22nd February. Right now I am scribbling a bit each morning before work but apart from a piece I have already written on Macbeth I shall skip through.
Andreas and I caught the last performance of Macbeth on Saturday 29 November it was one of the most important events of my life, I wrote something here.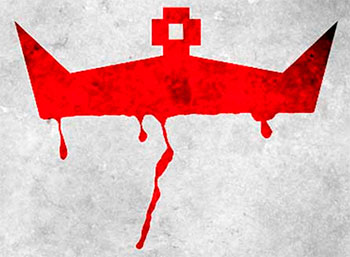 As you know, we in Climate Revolution have been seriously campaigning with my son Joe against fracking in the U.K. I really think that it is the most critical battle in the fight to save the life forms of Earth from extinction and destruction. We have to win this battle, put a spoke in the wheel, halt the machine – run by the powerful 1%. Their power controls the globe. But we have to start right here at home.
For this reason we have decided to support the Green Party: myself working with Climate Revolution and Joe working with his anti-fracking team. He has a charity. Humanade. The Green party are anti-fracking, anti-austerity, pro-community and pro-human rights. The rest of the parties are pro-fracking, pro-austerity, anti-community and anti-human rights. Right now there isn't a hair to put between them. I call them "the bloc". I just listened to a panel discussion with cross party politicians – Any Questions on Radio 4. On fracking they all told the same bare- faced lies and on the health service their answers amounted to a complete muddle because it's difficult to rescue it from the mess our current system of vulture capitalism has caused – and they all believe in this system. No chance!
So now Climate Revolution supports the Green Party. We've had a couple of meetings. After the fashion collections I want to give weekly talks to young people in universities on how we can" Get a Life" – our own lives and save human life in the future, as well as how we can enrich our lives by an easy transfer to a green economy. The Green Party will help in this part of the discussion.
I am just going to pick up on a few of the important things I did in the last 2 months.
Wed 3 Dec: Some of us from work went to a film studio in Twickenham, invited by Vanessa Redgrave and her son Carlo Nero. He has co-directed 2 x ½ hour films. Bosnia Rising concerns a detergent factory whose workers have not been paid by a crooked boss. This is against a background tide of poverty running through the country because there's not enough work. People there are on the last point of desperation: without the means to live, to help each other or feed themselves. They are protesting.
The Killing Fields is about Wildwood a 40 acre park in Herne Bay set in ancient woodland. See wolves, bison, deer owls, foxes, red squirrels, wild boar, lynx, wild horses, badgers and beavers! (I want to go with Alice Dellal, she lives there).
The 2 films have a message: we could conserve the world and eliminate poverty by reducing income taxes and replace them with land tax. (This is also Green Party policy).
There was discussion. To find out about land tax Peter Smith from Wildwood says:

Wed 10-11 Dec : To Dublin with my friend Lorna Tucker. Don't forget she is following my activism, making a film. I'm here to be interviewed at the Facebook womans convention. Luxury hotel, The Marker decorated for Christmas- so many lights. Expensive menu – amongst the starters, pumpkin soup(exquisite) £16.00.
Exchange: my speech in exchange for some advertising on Facebook and Vanessa, who's looking after us to give us some technical help with our sites. We want to encourage the 5 million people who follow our main site to follow Climate Revolution. Remember I want to concentrate our company under the banner of Quality not Quantity  – and we don't sell on our main site, we just show people our best things.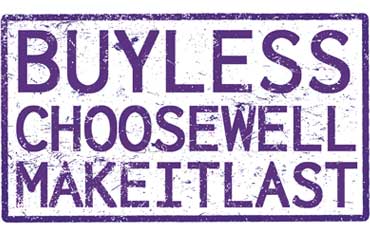 I enjoyed talking to all these women. Nicolle interviewed me. She emanates love of life, she shines.
The background to all my talks at the moment is End Vulture Capitalism. Because as I say if you know how capitalism is run then you can work out everything from it, form a real opinion for yourself of what's going on in the world.
Then I went on with Get a Life – the importance of engaging in the world through culture; the more you understand the people of the past, the more you understand the world you live in. "You get out what you put in". The women were delighted by what I said about Aristotle and the importance of fulfilling your own special potential: The basis of Aristotle's philosophy was the study of form; how it happened, how it worked and how it changed. He said, "The acorn is happy to become an oak" (not in those exact words). This thought defines his idea of happiness: the acorn is programmed to become an oak and it is his destiny to become the greatest possible oak.
We humans are born each with our individual character. Character is like a bag of tools and it's the only one you've got to live your life with. Everybody is different and we make our choices according to that character. If we don't make those choices then we will never be happy (we'll just stay consumers). Happiness lies in following our deep interest in order to "grow" with the world. We must understand the past to know the present. You do this through culture, you get out what you put in- read, know the names of trees, go to art galleries. You tap your own potential and are happy to become who you are. You have your best to offer – and that is why I say the art lover is a freedom fighter for a better world.
Dublin is a wonderful city, architecture going right back but famous for its 18th century – everywhere. A world port, it was then richer than London. Cosmopolitan, every side street seems an adventure. They haven't knocked everything down as London continues to do. Facebook's building was in a street of modern buildings. We took the opportunity to have Seamus our driver show us around, he is a scholar and a thinker.
Sat 13 Dec: Our company Christmas party. Mark's Club. Cosy, cocktails, DJ's – Pam Hogg and Boy George. Enjoyed immensely!

Mon 15 Dec: Oxford, book signing and talk around End Capitalism.
Tue 16 Dec:  Discussion –in process- Paris shop – with architect.
Thu 18 Dec: Downing Street, Fracking protest. Government advisors warned them that fracking could be the "new asbestos".
Mon 22 Dec: To visit Julian Assange. Knows everything that's politically relevant.
Christmas at Joe's: Andreas came and we met all my family and some of our friends down at Joe's place in Cornwall very important was when Matthew Owen who runs Cool Earth (we do need to make a film for Cool Earth's website to show the incredible progress they're making) came to visit to meet Mike Hands from the Inga Foundation who is also saving the Rainforest (he's doing amazing work). They both live in Cornwall so we all got together to discuss working together. My son Ben wrote something:

I was having a morning cigarette outside when I saw a dead deer being deposited in the far garden by Joe. He had just found it lying in the road obviously having been hit by a car in the night.
Not being the usual thing to see I asked what he wanted to do with it & he said that it was to be our new project. We must butcher it for the meat.
It seemed like an ecological thing to do as the deer was already dead & apart from my mother & Faye we all still eat meat. However I could not help feeling squeamish about the job.
It is all so easy in the modern world to be a meat eater & yet to take no responsibility for the death of the animal & the preparation of the meat, so I felt that I had to do it.
Fortunately for my delicate sensibilities though my Sri Lankan friend Krishna had already offered to do the job. Also the first time for him, he had equipped himself with a pair of rubber washing up gloves, a meat knife & a black bin liner which he was wearing as an apron.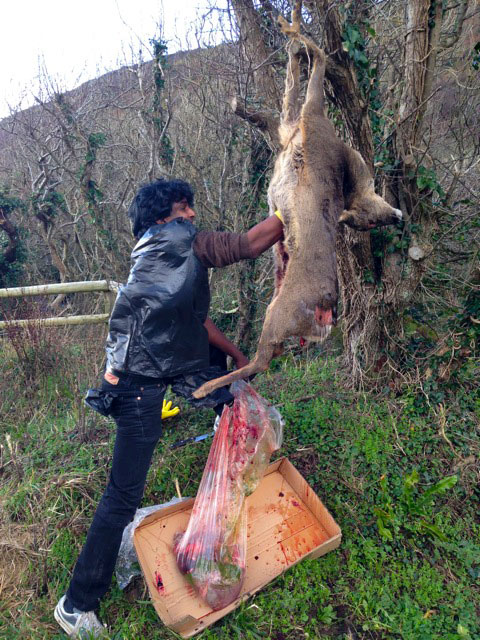 Realising that this would be a hard job to do on the ground, the deer's front legs were tied together & it was hung from a nearby tree. My uncle Gordon & Tomoka turned up at this point.
With the four of us watching & giving bits of advice, Krishna pushed the point of the knife into the chest of the deer. He stumbled forwards a bit as it seems that the knife met little resistance. He then slit the knife down to the deer's stomach. Next he pulled out the guts, grass green with the deer's last meal & after this the organs were cut out one by one.
I noticed that my dog Jackie was enjoying licking up the deer's blood on the floor & her white face was red with it. No problem with her. Her primal instincts had kicked in straight away. As for myself I was feeling every cut like it was happening to me (some holiday makers drove close by in a car whilst this was happening. Their faces looked a bit surprised at the scene).
Next thing to do was to cut the four legs off at the knee. With a bit of cutting & bending the knees backwards & forwards, the bones broke with a nasty crack & the legs came off. Now the skin with its layer of fat had to be removed. This was ripped & sliced away, bringing to my mind something I had just found out about the fur trade in China. It seems that it is easier to skin an animal while it is still alive. You just bash the animal on the floor to break its bones & stun it, & then you string it up & cut away. The skinned animal, still alive is then thrown onto a heap of other dead & dying animals until its death finally comes, ten or so minutes later.
It also brought to my mind the terrible human torture of being flayed alive.
After the skin had been removed along with the deer's head (looking like a sort of deer hood & cape), the legs were finally cut off, wrapped in plastic & put in the freezer. The rest of the deer, including the empty ribcage were taken by me to the end of the garden & left as carrion. The head of the deer with its eye still in place looked calmly at me from on top of the piled remains of its body.
I had seen a film when I was young about the Kalahari Bushmen in Africa. They shoot their prey with blunt arrows tipped with knock out potion. When the prey falls asleep & before they cut its throat they tell it that they are sorry but that they need its body & they thank it for its life which it gives to them. Reminded of this I said the same to the deer.
Having gone through the process of the deer's dismemberment I did actually feel less squeamish about the process afterwards. From a dead body to cuts of meat had settled into me. I'm still not sure about actually killing though.
New Years Eve:  Small dinner party with Julian in the embassy.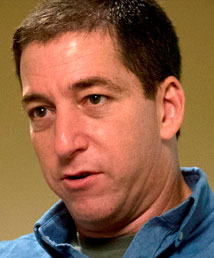 January 2015:  Before Christmas I posted photos of 13 heroes on the Climate Revolution website. I intend to write a text for each to celebrate what they have done and are doing to fight for good. But so far I have only done Glenn Greenwald, Edward Snowden and Prince Charles. I will have to wait until end of March to do the others. Because till now Andreas and I are working on this seasons fashion shows – and next seasons collections. We work weekends.
Hero Glenn Greenwald continues to challenge the sequestration of the law by the political powers who then manipulate it for their own protection. That is what makes him outstanding. He writes: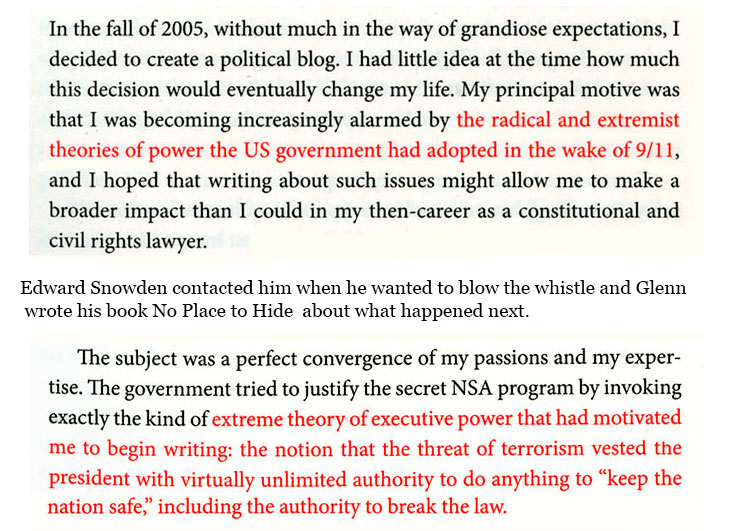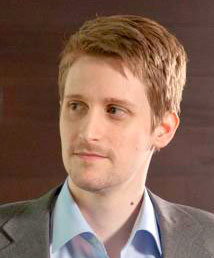 Hero Edward Snowden blew the whistle on the NSA and the surveillance state.
I was very touched by what seemed to be his main reasons for doing so (because he had to); 1.) his hope in the goodness of the American people despite his fear that people wouldn't care about his revelations  2.) his belief in the internet as a parallel universe, a land of freedom and discovery which challenges the deceptions of the old world – his wish to protect it. Highly intelligent , the preparation and planning of his leak is immaculate.

Next time I visit Julian Assange I will ask him how he helped Edward escape capture. Julian is another hero.
Thu 15–Tue 20 Jan: Milan. Main event: MAN show Sunday 18th. As well as the show preparation and presentation I am here to look at our other collections and the show rooms are filled with people come to buy. Red label selling collection has arrived and the show will be next weekend as I write ( Feb 22nd) I had a hard time because I had to correct quite a bit, get things re-done. Now I'm excited and I'm looking forward to the show (except we have many decisions still to make in order to finish Gold Label. Then we will have finished all the seasons collections and the pressure will ease up!)
For the MAN collection I was very pleased with the unisex knitwear and jersey including t-shirts.
T shirt 1.) Andreas collected  all these odd logos, symbols and fridge magnet type graphics and superimposed them on each other for a t-shirt design. We call it the "meaningless T shirt".
T shirt 2.) Drillers in the Mist – a film about Varunga Park reservation home of the mountain gorilla showing how Soco International an oil and gas company planted seeds of corruption so they could drill in this protected park. They not only threaten the lives of the gorillas and the rangers who risk their own life to protect them, but the film shows how the guerrilla armies/rebels came into the reservation and killed people to demonstrate to the drilling company how disruptive they could be so as to get a cut of the corruption money.

T shirt 3.) Photo of Prince Charles with Che style beret. We focused on his work. When I was interviewed  I said that if he'd been world ruler for the last 30 years we would not have climate change. Some people don't like the idea of a royal family. I think the reason for that is our left –wingers (Can you call people "left" when there is no political difference between right and left?) are what I call decadent Marxists, i.e. they don't like Marx but they still believe in his polarization between 'bourgeois' and 'proletariat'? I'll write about this in the next Diary.
Rest of the month: A couple more meetings with the Green Party (I read up till now they don't want a royal family but that's something we can all discuss in future).
Urgent: stop fracking.
A lot more work.