Vivienne's Diary – October
October: I have agreed to do several interviews in order to help promote my biography.
Wed 1 – Rolling Stone, phone interview Renata Molho
Tues 14 – Woman's Hour. Interview by Jenny Murray.
Wed 15 – Guardian, interview in Chelsea Town Hall with audience. Interview by Deborah Orr.
Fri 17 – Radio 3 Private Passions. Interview by Michael Berkeley. They are so pleased with the interview that they want to air it around Christmas.
I enjoyed talking to all the interviewers. I liked them.
Deborah Orr was particularly supportive. But then I was with her the longest. She is dry and funny and clever. What I hadn't realized – and this came out in all the interviews, was that my reasons for doing everything throughout my life is just the same as it is now: I want to understand the world for its own sake and also to use this knowledge to make things better and then everyone can have the same chance as me.I'm glad I was born in the country and I love the seasons and the English climate. I'm glad that in those days children were not spoilt and distracted with consumer goods. So that later I could cultivate my deep interest and become an art lover.
Wed 1 Oct: In the evening Peter had invited me to Electra at the Old Vic and Kristin Scott Thomas played the heroine. She had said, "Before I die I will do Electra" She is now giving the performance of her life and I didn't like it. She will get rave reviews – she was raving and I only once empathized with her – for a moment, when she listened to the point of view of the mother she hated. She looked great – maltreated. She was the living fire of rage, entirely concentrated and focused, so focused that when she moved she could only stomp or throw herself about. Too much. She needs to be calm as well.
It is the duty of Electra's young brother to kill their mother because she has killed their father. And one reason the mother killed him is because he sacrificed their eldest daughter- Electra's sister.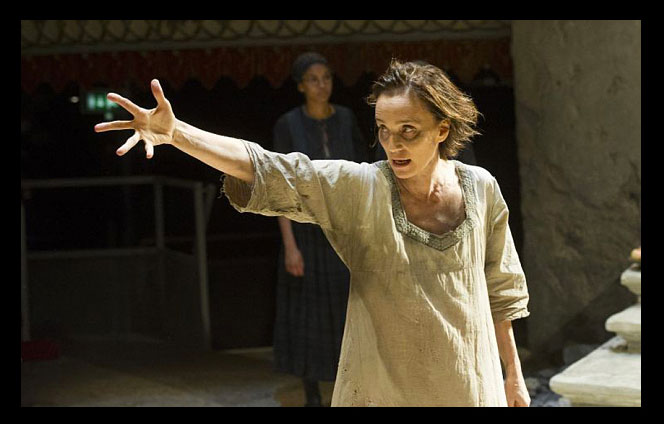 Electra is just about the most difficult role – because her passion is focused on only one thing – hatred. And this one focus is not enough. She needs perspective- objective as well as subjective. She can be the character on the emotional level whilst engaging the audience on the intellectual level. She needs to "exteriorize" herself as well.
Essential is the intelligence of the actor. What the actor thinks, the audience will think. The actor needs to know the text and all its implications so that the audience partakes in the significance of his actions. The actor should consider not only her significance at the time the play was written but how she would be judged today. Her own awareness will actively engage the audience. The actor sees herself through their eyes.
Like all the arts, theatre is an imitation of life: it is not real.
My theory is that actors watch too much TV and film. They think acting is about being real – relating only to the other actors. Whereas they need to play to the audience as well. Theatre needs to be theatrical, artificial = made by art. Larger than life.
Thu 2 Oct: To Tricycle Theatre, Kilburn to see True West, a play from the 70's by Sam Shepherd, invited by director, Philip Breen.
Andreas and I enjoyed going on the tube, then walking up into Kilburn high street.  I don't think I've ever walked there before. Just different that's all. A lady who got off the train with us recognized me by my conker necklace which she had seen me wearing on T.V. the eve of the Scottish referendum. She said that she had wanted Scotland to stay together but she  changed her mind because- "All those people really want their own government. Don't think of us. 'Yes, do it!" I thought she was really great. She'd absorbed all the excitement and the pro's and cons. Positive.
The play was fab. (I'll let you know when it's on again, going to the West End). It showed up the shit in the American dream. As relevant today as in the 70's. What a great writer! Preposterous plot – madly unpredictable. Set – a kitchenette and a blue sky. Acting – Whew! Eugene O'Hare. Thanks Philip. Tragic!
Mon 6 Oct: Ian Kelly invited us to the Doodle Bar for drinks and lovely cakes he'd made for us that morning. He wanted to thank all our staff for talking to him for the book and helping him.
Tue 7 Oct: Book Launch. Mark's Club.
Picador stuck our leaflet (End Capitalism) into the front of the books and it will be included in the re-prints. So much wish I'd thought of it in time for English and German editions. Cover portrait of me by Juergen. Whole feel is of an important book.
So happy to see so many friends. Bella (Freud) tells me that Debbie (Juvenile) died some time ago. Can't thank them all individually so I pick on Jerry (Hall) for my speech and talk about her in particular to let them know they're all as smashing as her. Jerry is the perfect hostess. She makes everybody feel special and we're already looking forward to her Thanksgiving dinner party. Told how she pretended I was more important than her when she first modelled for Andreas and me, answered the excited press, "My husband got me the job." (Mick asked me at a party) Put perfume on first and went barefoot on the catwalk to show off a dress full of twirling chiffon frills. Nearly dislocated her arm to get in and out of a dress when the zip jambed. (If you'd have seen her!) We've all had a great fashion time.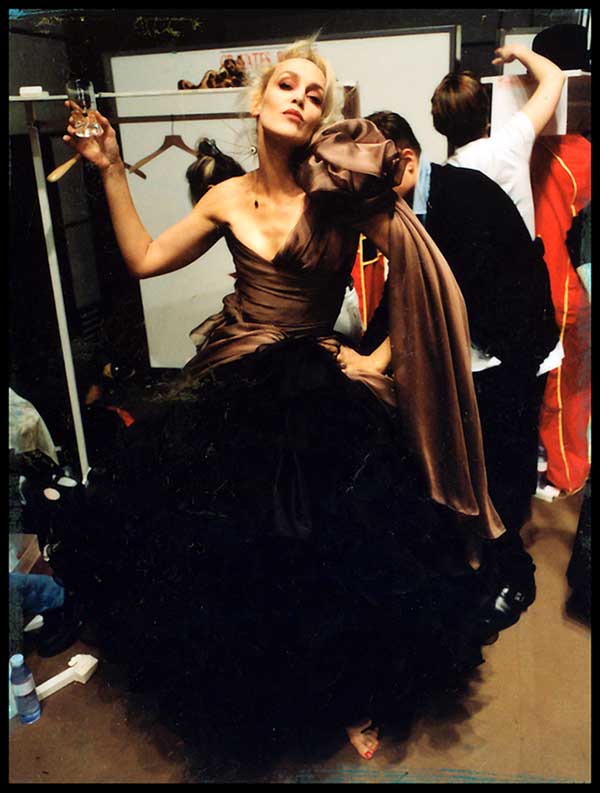 Wed 8 Oct: To Oxford with Cynthia to meet Naomi Klein who is giving a talk about her new book, This Changes Everything. Naomi has asked me to introduce her to the audience.
We have been communicating because we share the same concern for urgent action to save the planet. I am very interested in the film Naomi's husband, Avi Lewis is finishing which has a parallel message to that of the book- that tackling climate change will force us to create a better world, the world we want. The film highlights peoples who are already doing this. The only way to stop global warming is to rethink the way we relate to each other. Everybody needs to change. Right now there are the oppressed and the 1% oppressors.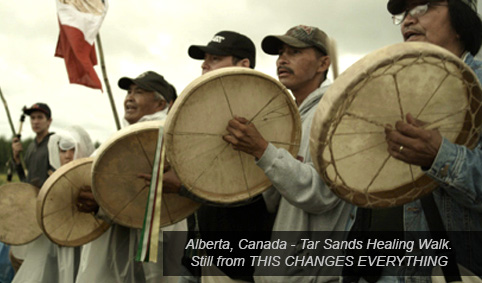 I have not yet had time to read this book. I enclose comments from a really considered review from Canada's Globe and Mail 20th Sept 2014 sent to me by my friend Bachee.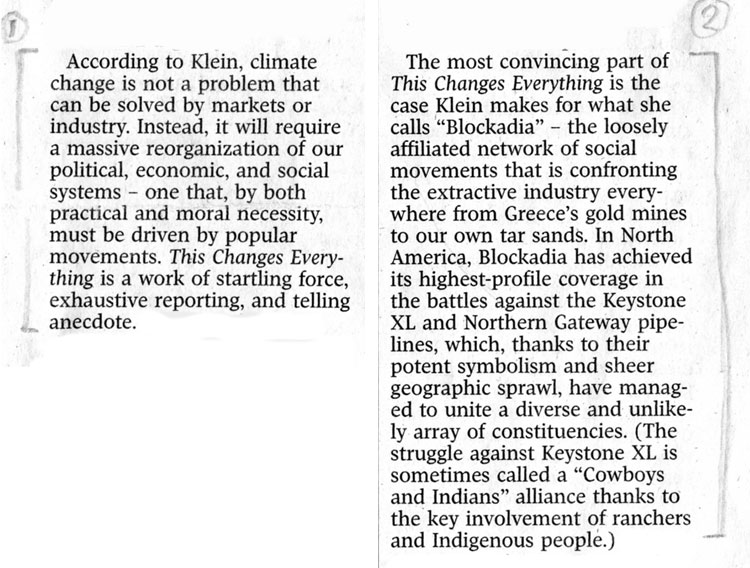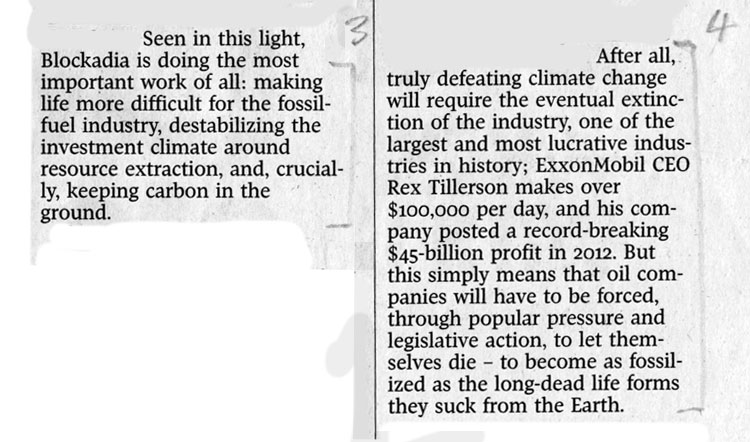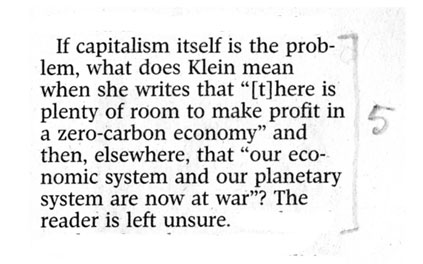 The review also faults Naomi for not sufficiently defining what she means by capitalism? If she is anti-capitalist then what does she mean by :- [5] For my part I just tackled the problem according to my ability that's as far as I can go (- in my reply to Tenpole Tudor (see below) and in my analysis End Capitalism). I think everyone knows what capitalism is. It is usually referred to as "greed" I can only thank Naomi and others for naming the foe.
Naomi was attacked in another review for not believing that capitalism can solve our problems, "She is as wrong as Malthus." The same criticism has been used against Russell Brand, "Doesn't he know that capitalism took thousands out of poverty?" It seems that Malthus was proved wrong for a time and I therefore include some excerpts from Bertrand Russell's "Freedom and Organization" to explain this. But now when is it tragically obvious that at the end of capitalism Malthus is overwhelmingly right, why do these featherbrained journalists quote the past? They think they know it – they know shit! But science applied to true human needs could beat Malthus.

Fri 10 Oct: Andreas and I go to see the opera diva, Joyce Di Donato in Handel's Alcina at the Barbican. It is a concert performance which means it's not a production with costumes and set but the singers wear their own clothes and the orchestra is on stage. We have designed Joyce's evening gown specially for her part in Alcina. Alcina is a witch who has charmed the hero, Ruggiero to live with her on her island where she has turned people into animals. His beloved turns up to rescue him, she is disguised as a man. The other characters use this situation to further their own love interest, for example, of course one lady scorns her own partner because she falls in love with Ruggiero's true love now thinking she is a man.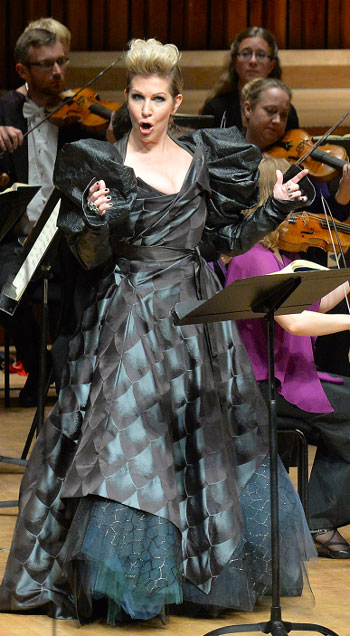 We designed Joyce's dress and it is perfect for the part. It's a dark sea green, almost anthracite; it's a brocade with a fish scale motif outlined in silver. The dress is asymmetrical and one side of the decoltee sticks up in a vicious point whilst the hem points up and down. The costume comes in three parts: in the first act Alcina's power is intact and she has enormous stiff puffed sleeves strapped on top, and below the jagged hem froths a tulle petticoat all in toned colour, as she begins to lose her power in the second act, she is more exposed and the sleeves are off, in the third act the petticoat is gone and she stamps around in boots. Joyce's hair is really something else, the back and sides are cut to ½ an inch and the top is a stand-up hedge 5 inches high.
This silly scenario provides the opportunity for – limits everything to – the expression of human emotions. The concert format means that the singers who stand in front of the orchestra and face out to the audience are acting with you whilst supposedly acting with another actor. I love this convention. Can you imagine how engrossing all these subtle and changing emotions are – sucking you up with the divine music? Handel- Genius!
Thu 16 Oct: To Joe's shop opening in Charing Cross Rd. A Child of the Jago His label is Jack Shepherd. Joe is still inspired by criminals. Jack Shepherd was a daring and intelligent thief and jail breaker who refused to be a victim of 19th century poverty and became its typical victim – a hero of the poor, hanged aged 23. Joe's done a marvellous job. Everything he touches is done with care and love and this is how he makes a business. What he loves most about the shop is that he's found a way to make all the clothes in England. He has his own little workshop, a factory up north that would have closed except one of the Pakistani workmen took it over and a factory belonging to a Jewish friend's cousin in the east end. This man explained to me that he is fourth generation and though the skill base no longer exists amongst the English he is able to continue with workers whose countries were once behind the iron curtain. The clothes are really nicely made and Joe searches out deleted stocks of fabrics and invents uses for all the offcuts. The fabrics give real character.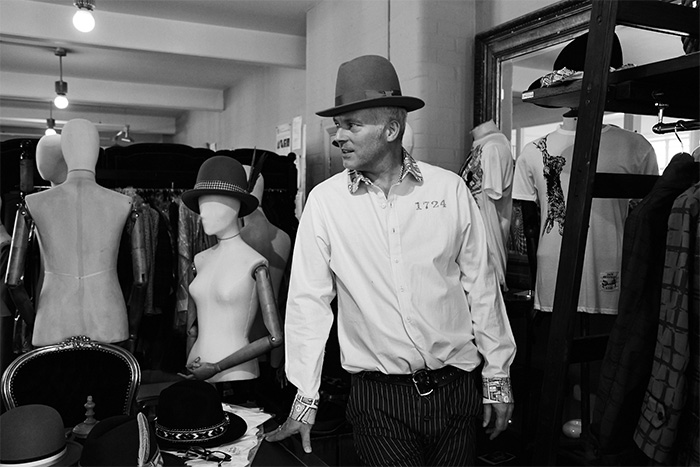 Anyway, at the opening I met Edward Tudor Pole (Tenpole Tudor) who gigged with the Sex Pistols and was in the film, The Great Rock and Roll Swindle We wrote a song together, Who killed Bambi. He still writes and performs. I gave him a leaflet End Capitalism and he said, "But what do you mean by capitalism? There are different levels." It's true that this  needs   explanation. If you read my leaflet then it's clear that capitalism ends in monopoly. Big fish eat little fish. Big fish control the markets to force small firms out of business. (There is a good example of this in The Grapes of Wrath by Steinbeck when the canning companies sell their fresh fruit at a loss and bankrupt the small farmers). In the past there were laws to prevent speculation and take-overs but in recent centuries the laws have been ignored and withdrawn. Commerce with proper control is good for the economy.
All commerce needs to make a profit and build reserves of capital. You could say that all buying and selling is capitalism. But there is need for control to stop people exploiting people. The free market has proved to be our enemy. Therefore when we speak of capitalism we mean free-market capitalism. When we demonstrate against capitalism we demonstrate against Big Business. Government still promote it. Our government's politics are becoming ever more short term. They are wrecking our society at every point and level – breaking up communities and public services – for short term profit. Our aim must be –


To live sustainably requires a symbiotic relation with Gaia and her eco -system. We can see this is possible in farming if we try to produce what is good for us to eat and waste nothing. Then Gaia's on our side.
I am trying to do this with my fashion company. It's maxim is "Quality versus Quantity" (Q.v.Q) At the moment we have too much quantity and I am trying to control expansion. The idea is value for money, fair wages, full use of raw materials as in farming: the work is labour intensive providing development of skills and pride of achievement in the resulting quality. We offer real choice.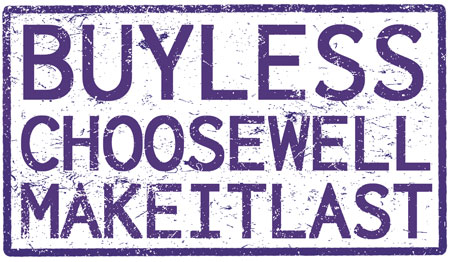 Thu 23 Oct: Duke of Edinburgh Awards, St. James Palace.
I've agreed to take part because I'm a fan of the Royal Family, especially Prince Charles.
Prince Philip at the age of 93 still, each day does 3 events (visits charities, functions, groups, workshops). This is his favourite event. Check it out. Young people have to do really important empowering stuff to achieve the bronze, silver and gold awards. Nearly ¼ million have won gold this year and since the charity began there have been many millions throughout the world.
I had no idea what an important role they wanted me to play until I got there. I was one of 4 presenters, each in different rooms and each with 100 gold achievers and their families. I had to shake hands and give 100 young people their certificate.
I had taken my leaflets and hoped to give some out. I spoke to a young woman Laura and she told me it would be fine and to speak to Paul the master of ceremonies, whose full-time job is to look after these awards. I said, "They're rather against the government." He said that if I gave them to him then we could tell people to get them from him.
The speech I gave was End Capitalism the same information as in the pamphlet and emphasised the need to transfer to a green economy and that young people could change everything by campaigning through the social media and demonstrating on the streets and acting now. Urgent! Name capitalism as the problem. I might have even told them to vote green but I can't remember.
The young people loved it, and their school teachers and families. They all relaxed and felt that our world was inclusive, that you could say everything you wanted here in the palace. They thanked me and I was so pleased how deeply concerned they were. Paul told them my speech had been life-changing. That wasn't his exact phrase but that's what he said.
In the evening Cynthia and I went to listen to Russell Brand's Guardian talk with Owen Jones interviewing.
You know I don't follow the normal media much but I do know Russell's got 8 million followers on Twitter and that he tells them not to vote (I don't agree). He was on the panel of the People's Assembly and said, "We have to dismantle capitalism to save the environment." What's great is that he attacks capitalism and our governments head on. He' right and I think the government are the ones who are naive: like babies, they haven't a clue, but they still believe what they learnt in the nursery.
Cynthia and I are considering supporting the Green Party and so I'm interested to know if he's got any other ideas on how to get a government that helps the earth and its people. Though we believe it would make a big difference if young people did vote Green there doesn't seem much chance in encouraging them if he's against it – because of his influence. He said," The reason I don't vote is the same reason I don't eat glitter: there's no point! " I agree with him completely and that's why people feel we don't have democracy. They're all the same (and UKIP aren't important because they're the same). I call them "the block". You have the The Block and you have the Green Party. That's the choice.
Owen did his best to put the case for voting Green and Russell said, "You can, I won't". He said, he tries to augment things e.g. joining the women who refused to be evicted from their council houses so the government can profit. I decided to ask a question. I would have liked to argue with him about voting but that's not a question. So I asked what he's going to do to bring on the Climate Revolution. He said we should all do our bit, me my bit, him – his, and everybody theirs and join together – do things with others. He's so intense about doing this. But I say we have to do more. The danger is too Urgent.
Fri 24 Oct: Cynthia and I and my son Joe went to tea with the Green Party. We and all NGO's need a common focus for action involving the mass of public opinion which I believe is informed and caring. Perhaps the Greens could be the focus. Their political agenda is dead right. They're against austerity and fracking and they are for community. The party tells us their plans for action.
Fri 31 Oct: Evening. Garrick Theatre. "The Scottsboro Boys". My friend Bruno Wang invited me and my friend Giselle. He comes from a family of investors and he is not political, but I think everybody needs to be political right now. I give him my leaflet. He has something to do with investing in this musical. It is a famous true story of 9 poor black boys the youngest, 13 – who were hobo's in the 30's looking for work and free-riding the railroad, then charged with rape and given the death sentence – though that didn't happen due to public outcry. The story is presented as a minstrel show. They are wonderful people – victims yet hero's and because the macabre presentation helps you deal with your emotions- Powerful stuff.